Dependable Residential Cleaning Service in Port St. Lucie, FL
Entrust our skilled experts to keep your living space fresh and healthy.
Schedule Your Free Estimate

Your go-to residential cleaning service
Keeping your living space tidy and hygienic at all times can be a challenging task, but with our competent team on your side, you can relax and let us take care of everything. Whether you require standard, recurrent, one-time, or seasonal appointments, we have the experience and expertise to ensure your home in Port St. Lucie is dirt-free and healthy. Our team uses state-of-the-art tools and natural, non-toxic supplies to get the job done, leaving your residence smelling fresh and looking beautiful after our house cleaning service. You can trust us to deliver top-notch experience and give your home the care it deserves.
Call Today 772-220-7915
Eco-friendly supplies
We use non-toxic and gentle supplies that are effective at removing dirt and grime while also being safe for all surfaces and the environment. We care about the health and safety of you and your family.
Expertise & devotion
Our team members are all expert residential home cleaners who are highly skilled and meticulously trained to deliver exceptional results and achieve your complete satisfaction.
Easy estimates & booking
We offer a transparent pricing system with free and accurate estimates based on your requirements. To get started, please call us at 772-220-7915 and we'll explain our entire process.
Guaranteed quality
We take pride in our clients' positive experiences, as they are the driving force behind our business. To ensure your satisfaction, we offer a 100% satisfaction guarantee with every booking.
Professional & dedicated residential home cleaners
Rely on comprehensive housekeeping & maid services in Port St. Lucie
Kitchen
Scrubbing countertops and backsplashes
Wiping outsides of cabinets
Wiping doors, woodwork, and all door knobs
Clearing the drains and the kitchen sink
Dusting, vacuuming, and wiping down the window sills
Sanitizing light switches
Vacuuming and mopping the floors
Removing spider webs
Emptying trash cans
Taking care of appliance exteriors
Taking care of appliance interiors (Add-on with an additional fee)
Bathroom
Thorough treatment of the tub and/or shower
Squeegeeing tub, shower, and mirror glass
Wiping down cabinet exteriors
Sanitizing the toilet bowl and surrounding exterior
Scrubbing the sinks and countertops
Sanitizing light switches
Wiping doors and woodwork
Sanitizing door knobs
Vacuuming and mopping the floors
Removing spider web
Taking out the trash
Bedrooms & Common areas
Removing spider webs
Wiping down window sills
Dusting all the light fixtures we can reach except expensive chandeliers
Sanitizing light switches
Dusting and wiping of all horizontal surfaces
Wiping interior door frames, doors, and handles
Dusting baseboards
Vacuuming and mopping the floors
Taking care of the porch and the patio ( Add-on Service with Additional Fees)
Squeegeeing as many as 2 slider sets (Additional Windows or Slider Available as Add-on with Additional Fees)
Cleaning window treatments (IF window treatments require DEEP wiping, it requires extra time and charges as per previous agreement)
*Special requests are accommodated whenever possible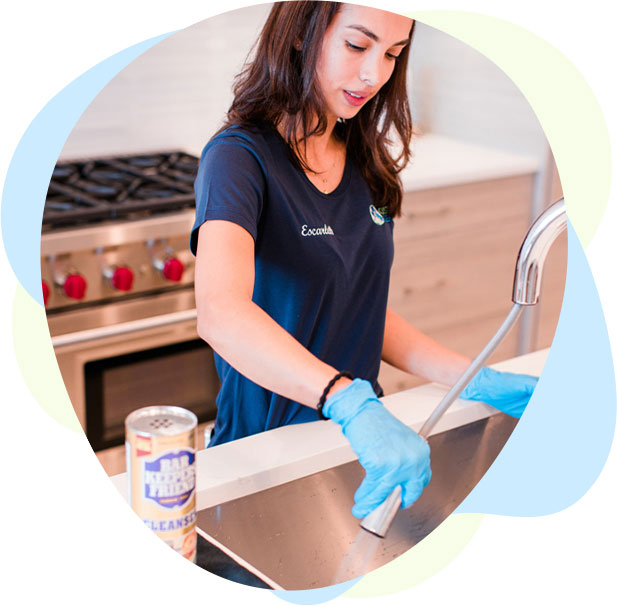 Experience all the benefits of our all-encompassing service
As a trusted and sought-after company, our top priority is to provide exceptional service to all of our clients. Our goal is not only to achieve the best results but also to collaborate with you to find a solution that completely satisfies your needs. We offer weekly, bi-weekly, and one-time cleaning services across Port St. Lucie and strive to be as flexible as possible to tailor our solutions to your unique preferences. Our aim is to help your home reach its full potential, and we'll work with you every step of the way to achieve that goal.

We have used Custom Cleaners for years. My wife had pulmonary fibrosis and the standard of cleaning made her life better. They are flexible in meeting interruptions in my schedule, agreeable to special requests and very reasonably priced.

This company did a clean on a manufactured home after the furniture was moved out. They did everything I asked for and they did an excellent job. The estimate was accurate and I was pleased with the work.

We have been with Rhonda and Custom Cleaning for three years! They do excellent work in a professional manner; arrive on time, pay attention to details, and go above and beyond what is expected!

I was very impressed with Custom Cleaning's professionalism from the start. Rhonda, Grissel, and our cleaning team are amazing! I can't thank them enough for their prompt response to our request for setting up weekly cleaning service for our home. Our cleaning team is prompt and professional, and the two ladies show great attention to detail. I am extremely pleased with Custom Cleaning's service and so glad I found them!

Best cleaning service on the Treasure Coast! Top-notch job, they go above and beyond to meet your needs. Professional, friendly and trustworthy. They use safe and pet friendly products. Work with you to meet your schedule, and follow-up to ensure you're 100% satisfied. They miss nothing when it comes to getting everything clean.
Frequently Asked Questions
Where do I start cleaning my whole house?
+
The best way to start performing residential cleaning is to develop a plan that involves tackling one room at a time. First, begin by decluttering and organizing each room before proceeding to dust and wipe down all surfaces, including furniture, walls, and floors. After that, move on to vacuuming or sweeping floors and carpets, followed by mopping hard floors.
Lastly, wipe any windows or mirrors and tidy up any remaining messes. Be sure to take regular breaks and pace yourself to avoid exhaustion. Alternatively, you could also consider booking professional maid services for your house in Port St. Lucie to ensure that your living space is completely spotless without having to invest a lot of time and energy.
How do housekeepers clean so fast?
+
There are a few key strategies that housekeepers use that help them be fast. They typically work systematically, starting in one corner of a room and moving methodically through each area. They also often use specialized tools and solutions to streamline the process.
Additionally, they have experience and continuous training, allowing them to work quickly while still achieving great results. Finally, they often work in teams, with each member focusing on a specific task to maximize efficiency.
What is the hardest part of cleaning your house?
+
The hardest part of housekeeping can be different for everyone, but some common challenges include tasks like scrubbing bathrooms and kitchens, as well as decluttering and organizing. For some residents of Port St. Lucie, finding the motivation to get started can also be difficult.
Additionally, larger homes with multiple floors or hard-to-reach areas can require extra time and effort to handle. Overall, the hardest part of home maintenance may depend on the size and layout of the home, as well as individual preferences and habits.
How often should you schedule a cleaning?
+
The size of the home, the number of occupants, and their daily routines all impact the frequency of upkeep. As a general guideline, it is recommended to schedule a deep cleaning every few months and rely on weekly or bi-weekly cleaning services for regular maintenance. However, some people may choose more frequent or less frequent sessions.
Where do I book high-quality residential cleaning services in Port St. Lucie & beyond?
+
For over three decades, Custom Cleaning of the Treasure Coast has been providing comprehensive residential cleaning services to residents of Port St. Lucie and surrounding areas. Whether you reside near Spruce Bluff Preserve or Clover Park, we are dedicated to helping you achieve a healthy and spotless living space.
We understand the importance of flexibility and personalization, which is why we work with you to find a convenient time and customize an offer to meet your unique needs. With our supplies and expertise, we guarantee a thorough upkeep that will make your home shine.
Our services cover a wide area, so whether you require thorough deep cleaning in Hobe Sound or reliable weekly cleaning in Jensen Beach, we are here to assist you. Don't hesitate to contact us!