Advanced Residential Cleaning Services in Martin County
Maintain a spotless home with our residential cleaning services.
Schedule Your Free Estimate

Quality residential cleaning service near you in Martin County
As a reputable company with 31 years of experience, our team specializes in providing residents of Martin County and surrounding communities with detailed residential cleaning services. We're an ISSA and a BBB A+ member, providing a comprehensive range of services through a team-based approach. We understand that every home is different, which is why we offer free quotes based on your specific requirements. As a result, Custom Cleaning of the Treasure Coast exceeds your expectations and sets high standards of hygiene.
Call Today 772-220-7915
Eco-friendly
Our methods are eco-friendly. We use certified green products that can eliminate even the most stubborn dirt and grime without compromising your health during residential house cleaning in Martin County.
Top professionals
You can rely on our well-trained and knowledgeable team of experts for any type of residential maintenance work. We're a licensed, insured, and bonded company, with employees who are passionate about what they do.
Swift booking
Book our service quickly and easily by giving us a call. Additionally, we'll provide you with instant pricing information for your service so you know exactly what to expect.
Happiness guaranteed
In case you're unhappy with our service or you have other concerns about our recent visit, please let us know within 24 hours. We'll dispatch a team of top professionals to your home to re-clean the problematic area.
Top professionals
for a better quality of life
Depend on our in-depth residential cleaning services
Kitchen
Remove spider webs
Clean Countertops and Backsplashes
Wipe/Clean outsides of cabinets where needed.
Clean Outsides of Appliances. Polish if needed.
Wipe down Window sills
Dust/Vacuum Window Treatments
Clean & Sanitize Light Switches
Wipe/Clean Doors & Woodwork. Sanitize door knobs.
Clean Kitchen Sink, faucet & Drains. Polish if needed.
Empty the trash
Vacuum & Mop Floors.
Interior Cleaning of appliances (Available as Add-on Service with Additional Fees)
Bathroom
Remove Spider webs
Clean & Sanitize Outsides of Cabinets
Clean & Sanitize Shower & Tub
Clean &/or Squeegee any Mirrors & Shower/Tub Glass
Clean & Sanitize Countertops & Sinks
Clean & Sanitize Entire Toilet Bowl including outside surfaces & surrounding floor & wall areas.
Clean & Sanitize Light Switches
Wipe/Clean Doors & Woodwork. Sanitize door knobs.
Empty the trash
Vacuum & Mop Floors.
Bedrooms & Common Areas
Remove Spider webs
Wipe down the windowsills to remove dust & buildup.
Dusting Light Fixtures that we are able to reach (excluding expensive chandeliers)
Clean & Sanitize Light Switches
Clean/dust all horizontal surfaces & items on the surface.
Clean/Wipe Interior Doors & Door Frames & Door Handles
Dust Baseboards
Vacuum & Mop Floors
Porch/Patio Cleaning (Available as Add-on Service with Additional Fees
Change linens on 1 bed (Additional beds can be added @ Small Additional Fee)
Squeegee up to 2 sets of sliders. (Additional Windows or Sliders Available as Add-on Service with Additional Fees)
Dusting Window Treatments with Duster or Vacuum. (IF window treatments need DEEP cleaning/wiping, extra time will need to be allowed, agreed upon and charged accordingly)
* Special requests are accommodated whenever possible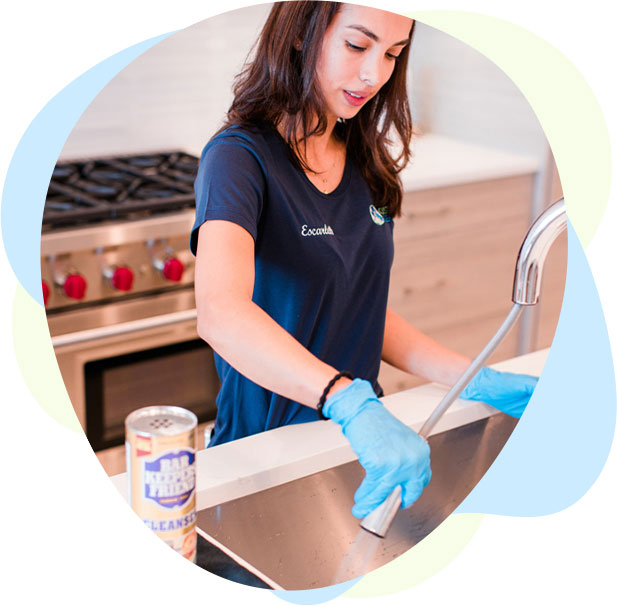 Book expert residential cleaning in Martin County without a hitch
We screen every member of our team rigorously, checking that they're reliable and qualified individuals you can trust. This way, we ensure maximum customer satisfaction. Best of all, all you need to do is schedule a service by giving us a call and we'll find a slot that fits your schedule. Once you are happy with our work, it is easy to make a payment via credit or debit card.

We have used Custom Cleaners for years. My wife had pulmonary fibrosis and the standard of cleaning made her life better. They are flexible in meeting interruptions in my schedule, agreeable to special requests and very reasonably priced.

This company did a clean on a manufactured home after the furniture was moved out. They did everything I asked for and they did an excellent job. The estimate was accurate and I was pleased with the work.

We have been with Rhonda and Custom Cleaning for three years! They do excellent work in a professional manner; arrive on time, pay attention to details, and go above and beyond what is expected!

I was very impressed with Custom Cleaning's professionalism from the start. Rhonda, Grissel, and our cleaning team are amazing! I can't thank them enough for their prompt response to our request for setting up weekly cleaning service for our home. Our cleaning team is prompt and professional, and the two ladies show great attention to detail. I am extremely pleased with Custom Cleaning's service and so glad I found them!

Best cleaning service on the Treasure Coast! Top-notch job, they go above and beyond to meet your needs. Professional, friendly and trustworthy. They use safe and pet friendly products. Work with you to meet your schedule, and follow-up to ensure you're 100% satisfied. They miss nothing when it comes to getting everything clean.
Frequently Asked Questions
Are all of your cleaning specialists insured?
+
Absolutely! All our experts in residential cleaning across Martin County are licensed, insured, bonded, and worker-comp covered.
As a result, we ensure your home or place of business is well looked after. Feel free to contact us for more info!
Do I need to be home for my residential cleaning appointment?
+
That is entirely up to you. If you'd like to attend your house cleaning, we can schedule a time that's most convenient for you.
Either way, you shouldn't worry that your home won't be tackled thoroughly in case you have other plans, but make sure you provide clear instructions on how we can gain access if you are not home.
Do you bring your own supplies?
+
Yes, you can rely on our team to bring their own professional supplies and equipment for any residential cleaning services they provide.
If there is a specific product you prefer, let us know beforehand. We'll be happy to apply your products to your home in Martin County, so we won't forget to note it for future reference.
Is it possible to make any special house cleaning requests?
+
And how! We're known for our exceptional customer service, and if you have any special requests, we're here for you.
Do not hesitate to contact our office at 772-220-7915 to inquire about special requests or special assistance in a particular area.
Where can I find professional residential cleaning services in Martin County & beyond?
+
Thanks to three decades of experience under our belt, Custom Cleaning of the Treasure Coast has earned the trust of many homeowners and businesses in the area.
Apart from effective home upkeep, you can reach us for:
No matter if you're located in Palm City or elsewhere in the Martin County area, we'll do the job for you with care and precision. Contact us today to experience what makes us the best in the field!