Detail-Oriented Church Cleaning Services in Hobe Sound & Beyond
The place of worship you care about is in good hands with our experts.
Schedule Your Free Estimate

Your reputable church cleaning service
We've been providing residents of Hobe Sound with extensive church cleaning services for over three decades. Our team follows a systematic approach and disinfecting procedures designed specifically for religious facilities, ensuring their complete cleanliness and safety. Reach out to us and let our fully bonded, insured, and vetted specialists put your mind at ease!
Call Today 772-220-7915
Green methods
Keeping your visitors and churchgoers safe and healthy is our top priority. This is why we focus on green products to ensure maximum results and a healthy environment.
Experts in their field
We only employ hand-picked individuals who are passionate about providing quality service. Plus, our team members are licensed, bonded, and insured.
Swift booking
Give us a call at 772-220-7915 so we can give you a precise estimate or to book a service with the most qualified church cleaners in Hobe Sound.
Satisfaction Guarantee
Every service we provide is guaranteed to meet your expectations. In case we miss a spot, simply let us know, and we'll come back the next day to make things right.
Ensure optimal cleanliness
in your religious facility
Choose expert church cleaners for maximum results
Entrance, Lobby & Sanctuary
Sweeping the entrance area
Wiping down the entrance door from both sides
Polishing glass on all doors
Eliminating cobwebs
Maintaining the walls
Wiping baseboards
Dusting all lobby surfaces
Tackling all pews, including the area underneath
Vacuuming and mopping floors
Hall, Kitchen & Bathroom
Disinfecting kitchen
Sanitizing common areas and bathroom surfaces
Scrubbing sinks and faucets
Taking care of drains
Polishing chairs and tables
Maintaining the glass surfaces on doors
Tackling both sides of the doors
Vacuuming and mopping floors
Taking out the trash from all garbage cans
Administrative Offices & Other Areas
Spider web removal
Disinfecting high-touch surfaces, such as door knobs, light switches, etc.
Cleaning both sides of entrance doors and ensuring that the glass is spotless
Wall-wiping
Wiping down baseboards
Trash removal
Vacuuming and mopping floors
*Special requests are accommodated whenever possible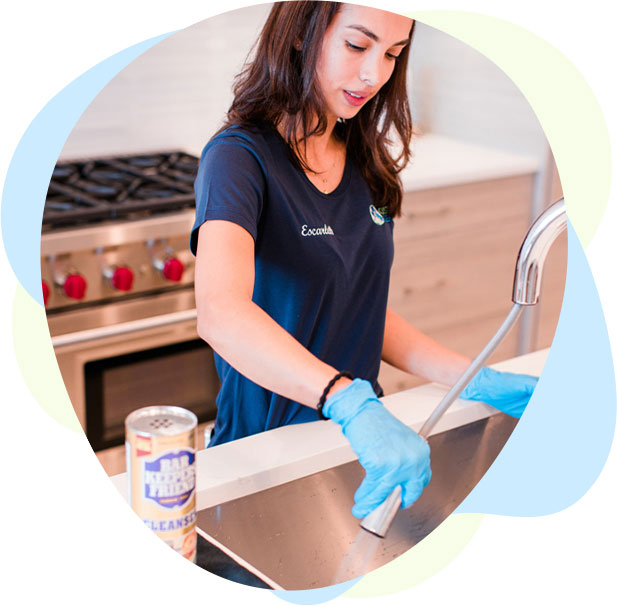 Take advantage of our church cleaning in Hobe Sound
We have all the skills and the knowledge needed to create an effective upkeep plan so your sacred space remains safe, sanitary, and neat at all times. You can trust us to treat every task diligently and professionally and adapt our approach to the activities and goals you have in mind.

We have used Custom Cleaners for years. My wife had pulmonary fibrosis and the standard of cleaning made her life better. They are flexible in meeting interruptions in my schedule, agreeable to special requests and very reasonably priced.

This company did a clean on a manufactured home after the furniture was moved out. They did everything I asked for and they did an excellent job. The estimate was accurate and I was pleased with the work.

We have been with Rhonda and Custom Cleaning for three years! They do excellent work in a professional manner; arrive on time, pay attention to details, and go above and beyond what is expected!

I was very impressed with Custom Cleaning's professionalism from the start. Rhonda, Grissel, and our cleaning team are amazing! I can't thank them enough for their prompt response to our request for setting up weekly cleaning service for our home. Our cleaning team is prompt and professional, and the two ladies show great attention to detail. I am extremely pleased with Custom Cleaning's service and so glad I found them!

Best cleaning service on the Treasure Coast! Top-notch job, they go above and beyond to meet your needs. Professional, friendly and trustworthy. They use safe and pet friendly products. Work with you to meet your schedule, and follow-up to ensure you're 100% satisfied. They miss nothing when it comes to getting everything clean.
Frequently Asked Questions
Is church cleaning important?
+
A church is a public place with a high concentration of people, which makes bacteria and germs more likely to be present.
Regular church cleaning will maintain a healthy environment and prevent illness from spreading over your place of worship in Hobe Sound.
Is it necessary to clean a church on a regular basis?
+
While there are a lot of factors to consider, churches should be cleaned every week or every two weeks on average.
Call us and we'll be able to answer your question more precisely. Depending on the size of your church, the number of attendees, and its current condition, we can provide you with more detailed information.
What products do you use for church cleaning?
+
Our goal is to avoid harsh chemicals and use eco-friendly supplies.
As a result, our church cleaning service in Hobe Sound ensures both safety and efficiency.
What needs to be cleaned in a church?
+
There are quite a few duties to be done in churches as they're vast spaces with large groups of people.
A daily checklist includes the following:
Keeping windows, doors, and doorknobs clean and dust-free
Dusting and wiping the furniture
Maintaining a clean lobby, sanctuary, and other areas
Sanitizing the kitchen and bathroom
Taking out the trash
Who offers the leading church cleaning services in Hobe Sound & beyond?
+