The leading experts you can lean on
Our company is the leading team of professionals capable of providing comprehensive church cleaning services in Stuart and across the region for over three decades. We'll keep every surface and area in your religious facility spotless and hygienic by following a meticulously devised checklist and using eco-friendly products. Reach out to us and let us show you we have the skills and knowledge it takes to take care of your holy place and make sure your worshipers and visitors enjoy a safe and hygienic environment.
Call Today 772-220-7915
Green cleaning
We care about the safety and health of your visitors and churchgoers and we always prioritize eco-friendly supplies for optimum results and a healthy place of worship.
Dedicated technicians
We only hire certified experts who share our passion for providing the highest-quality service. Moreover, all our team members are certified, bonded, and insured.
Easy booking
All you need to do is dial 772-220-7915 and we'll provide you with a cost estimate for church cleaning services in Stuart, FL or schedule your appointment.
Satisfaction Guarantee
All our services are backed up by a 100% satisfaction guarantee. In case you're not happy, let us know, and we'll be there to reclean the area in less than 24 hours.
Trustworthy church cleaning
in Stuart, FL
Extensive church cleaning services near you
Entrance, Lobby & Sanctuary
Dusting and sweeping the entrance area
Wiping both entrance door sides
Squeegeeing glass on all doors
Removing spider webs
Taking care of the walls if necessary
Dusting baseboards
Dusting the lobby surfaces
Wiping all pews.
Vacuuming and mopping floors, including the sections underneath the pews.
Hall, Kitchen & Bathroom
Sanitizing all kitchen, gathering place, and bathroom surfaces
Sanitizing backsplashes and countertops
Polishing sinks, drains, and faucets
Sanitizing all chairs and tables
Taking care of glass surfaces on the doors
Cleaning both sides of the doors
Vacuuming and mopping floors
Emptying the trash from all cans
Administrative Offices & Other Areas
Removing spider website
Disinfecting surfaces
Sanitizing door knobs, light switches, etc.
Cleaning entrance doors on both sides and taking care of the glass
Wiping walls
Dusting baseboards
Emptying the trash
Vacuuming and mopping floors
*Special requests are accommodated whenever possible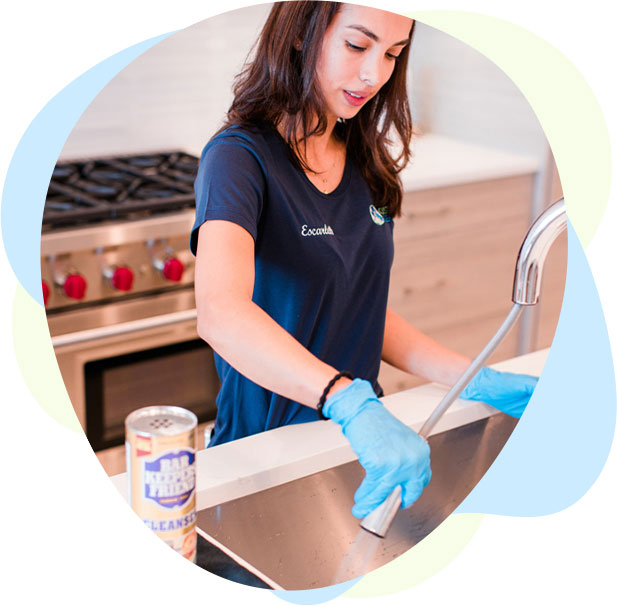 Hire our reliable church cleaning services in Stuart
We'll get your areas and surfaces thoroughly cleaned and sanitized and ensure your place of worship is healthy and safe for your churchgoers and visitors. With our detail-oriented approach and high-quality tools and supplies, your church will receive the treatment it deserves.

We have used Custom Cleaners for years. My wife had pulmonary fibrosis and the standard of cleaning made her life better. They are flexible in meeting interruptions in my schedule, agreeable to special requests and very reasonably priced.

This company did a clean on a manufactured home after the furniture was moved out. They did everything I asked for and they did an excellent job. The estimate was accurate and I was pleased with the work.

We have been with Rhonda and Custom Cleaning for three years! They do excellent work in a professional manner; arrive on time, pay attention to details, and go above and beyond what is expected!

I was very impressed with Custom Cleaning's professionalism from the start. Rhonda, Grissel, and our cleaning team are amazing! I can't thank them enough for their prompt response to our request for setting up weekly cleaning service for our home. Our cleaning team is prompt and professional, and the two ladies show great attention to detail. I am extremely pleased with Custom Cleaning's service and so glad I found them!

Best cleaning service on the Treasure Coast! Top-notch job, they go above and beyond to meet your needs. Professional, friendly and trustworthy. They use safe and pet friendly products. Work with you to meet your schedule, and follow-up to ensure you're 100% satisfied. They miss nothing when it comes to getting everything clean.
Frequently Asked Questions
Why is church cleaning important?
+
Church is a place where a lot of people gather, allowing for a high concentration of bacteria and germs.
Regular church cleaning will help keep your churchgoers healthy and reduce the risk of illness spreading at your place of worship in Stuart.
What needs to be cleaned in a church?
+
Churches tend to be large spaces that accommodate large groups of people, which is why there are quite a few necessary daily cleaning tasks.
Keeping your church in Stuart safe for your parishioners on a daily basis includes:
Dusting and cleaning windows, doors, and doorknobs
Wiping down the furniture
Disinfecting the surfaces in the lobby, sanctuary, and other premises
Clean and sanitize the kitchen and bathroom
Taking out trash and replacing liners
What do cleaners do at church?
+
A professional church cleaning service includes the steps necessary to keep your place hygienic.
Apart from disinfecting high-traffic areas and surfaces, professional cleaners will also take care of dust, pews, railings, backsplashes, windows, doors, and trash.
Do you offer a satisfaction guarantee for church cleaning service?
+
Yes, we offer a 100% satisfaction guarantee for all our services.
In case you're not happy with our church cleaning in Stuart, all you need to do is give us a call, and we'll be there to reclean the area in question completely free of charge.
Who offers the leading church cleaning services in Stuart & beyond?
+