Reliable Church Cleaning Services in Jensen Beach & Beyond
Our experts will keep your place of worship spotless.
Schedule Your Free Estimate

Our skilled team is at your disposal
We at Custom Cleaning of the Treasure Coast have been providing the good people of Jensen Beach and nearby areas with professional church cleaning services for three decades. Our highly trained team is devoted to delivering the desired results after each appointment. We take your requests and create a customized checklist to ensure your satisfaction with the fresh and hygienic space.
Call Today 772-220-7915
Green methods
We use eco-friendly supplies and high-quality equipment to ensure a safe and effective clean-up before your churchgoers and visitors come by.
Experienced technicians
We only employ commercial cleaners with years of experience. They're also bonded, insured, and covered by workers' compensation.
Quick booking
Whether you want to learn more about our comprehensive offer, get a quote, or book an appointment, just give us a call at 772-220-7915.
Satisfaction guarantee
To ensure the desired results and our clients' happiness, each appointment comes with a 100% satisfaction guarantee. This includes a no-charge re-clean.
Detailed church cleaning
in Jensen Beach you'll keep booking
What our specialized church cleaning services include
Entrance, Lobby & Sanctuary
Dusting and sweeping the entrance

Wiping the entrance door

Tackling the glass on all doors

Wiping down all pews

Removing spider webs

Dusting and wiping baseboards

Vacuuming and mopping the floors

Dusting and tidying up the lobby
Hall, Bathroom & Kitchen
Disinfecting all bathroom, kitchen, and hall surfaces

Sanitizing chairs and tables

Scrubbing sinks and faucets

Squeegeeing glass surfaces

Wiping countertops and backsplashes

Vacuuming and mopping all floors

Taking out the trash
Administrative Offices & Other Areas
Sanitizing high-touch surfaces

Wiping entrance doors

Removing cobwebs

Wiping baseboards

Vacuuming and mopping the floors

Cleaning walls

Taking out the trash
*Special requests are accommodated whenever possible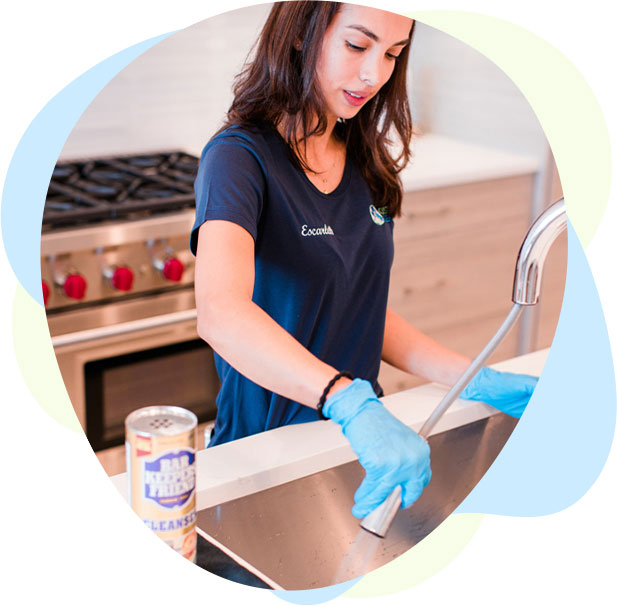 Entrust your church cleaning to our pros
Our dedicated team makes sure all areas of our holy place are fully disinfected and sanitized. We accomplish this by having a carefully devised plan, eco-friendly supplies, and advanced equipment. This way, you can rest assured the visitors and churchgoers will come to a healthy and safe environment.

We have used Custom Cleaners for years. My wife had pulmonary fibrosis and the standard of cleaning made her life better. They are flexible in meeting interruptions in my schedule, agreeable to special requests and very reasonably priced.

This company did a clean on a manufactured home after the furniture was moved out. They did everything I asked for and they did an excellent job. The estimate was accurate and I was pleased with the work.

We have been with Rhonda and Custom Cleaning for three years! They do excellent work in a professional manner; arrive on time, pay attention to details, and go above and beyond what is expected!

I was very impressed with Custom Cleaning's professionalism from the start. Rhonda, Grissel, and our cleaning team are amazing! I can't thank them enough for their prompt response to our request for setting up weekly cleaning service for our home. Our cleaning team is prompt and professional, and the two ladies show great attention to detail. I am extremely pleased with Custom Cleaning's service and so glad I found them!

Best cleaning service on the Treasure Coast! Top-notch job, they go above and beyond to meet your needs. Professional, friendly and trustworthy. They use safe and pet friendly products. Work with you to meet your schedule, and follow-up to ensure you're 100% satisfied. They miss nothing when it comes to getting everything clean.
Frequently Asked Questions
How often should you book church cleaning services?
+
It depends on the size of the church and the number of daily visitors and worshipers.
However, generally, most churches should consider booking church cleaning services at least on a monthly basis.
Why is it important to clean a church professionally?
+
Tidying up a church, especially if it's done by professional church cleaners, is important for several reasons.
First, it helps to create a welcoming, safe, and healthy environment for people who come to pray or visit your church in Jensen Beach. Cleanliness also shows respect for the sacred space. Also, regular clean-ups help maintain the building and keep it in good condition.
What should be cleaned the most in a church?
+
It's of the utmost importance to disinfect and sanitize high-touch surfaces in a church.
The most important areas to clean surfaces such as pews, altars, and other furniture, flooring, bathrooms, and windows. Additionally, any shared items such as hymnals and prayer books should be disinfected regularly.
Are church cleaning services expensive?
+
The cost of church cleanings depends on the size of the church and the type of services you request.
It's best to give us a call, tell us about your religious facility, and request an accurate quote.
Who provides an expert church cleaning service in Jensen Beach & beyond?
+