Client-Focused Commercial Cleaning Services in Hobe Sound
We make your workspace hygienic and a pleasure to work in.
Schedule Your Free Estimate

Your go-to office cleaning service
We specialize in performing extensive commercial and office cleaning across Hobe Sound and nearby communities. Whatever kind of business you run, you can easily maintain a healthy, motivating, and presentable working environment with our help. Whether it's a real estate office, a manufacturing plant, or another specialty building, we provide individualized services that will make sanitizing your commercial property a snap.
Call Today 772-220-7915
Eco-friendly approach
As part of our eco-friendly approach, we use green products which are safe for our clients and their employees while offering a consistently high level of efficacy.
Qualified pros
We employ skilled commercial cleaners, who are highly motivated to do a good job. These professionals are fully insured, experienced, and qualified.
Easy booking
Booking commercial cleaning is easier than ever. All you need to do is call us and we'll come to you, whether you're in Hobe Sound or another nearby area.
Complete happiness
We place a high priority on client happiness. This is why all our services are backed by a satisfaction guarantee. Just give us a call, and we'll address all your concerns.
Customization is a hallmark
of all our services
Get familiar with our extensive commercial cleaning services
Restrooms
Give toilets, sinks, and urinals a good scrub
Polish mirrors
Refill soap and tissue dispensers
Ensure the walls and partitions are clean
Floors
Vacuum all floors
Damp mop hard floor
Tackle bathroom floors with a germicidal cleaner
Carpet cleaning – available at an additional cost
Glass
Wipe down reflective surfaces as needed
Sanitize glass doors
Dust and wipe windows – available at an additional cost
Dusting
Dust the counters and railings
Make sure drapes, walls, light fixtures, and AC units are neat and dust-free
Walls & woodwork
Wipe doors weekly
Take care of baseboards and other wooden surfaces as needed
Furniture
Dust and wipe shelves, tabletops, counters, and desks
Dust and vacuum the furniture
Kitchens
Disinfect appliances
Tackle the fridge and microwave thoroughly
Scrub the sinks
Waste disposal
Take out the trash and replace the bags
Gather scattered papers and organize them
Other
Sweep the entrance
Organize magazines and newspapers
Disinfect coolers
*Special requests are accommodated whenever possible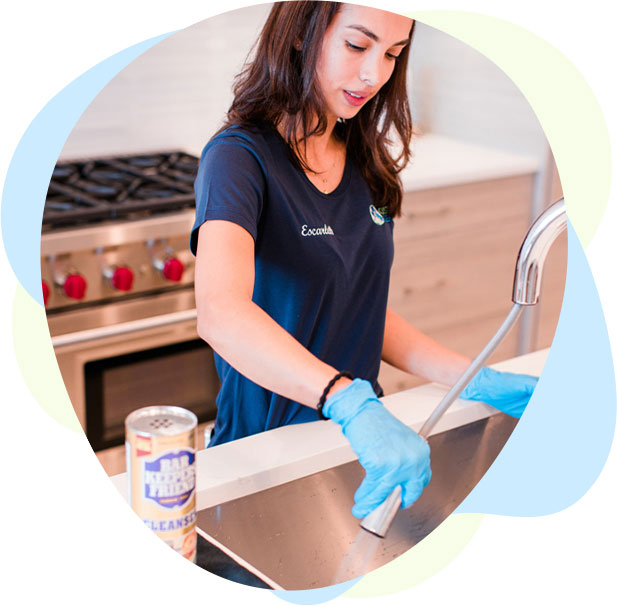 Commercial cleaning in Hobe Sound you can depend on
Booking an award-winning commercial cleaning service in Hobe Sound will enhance your company's image and make your business stand out. Let our seasoned team manage the cleanliness of your office so you can sleep easy knowing your property is in good hands.

We have used Custom Cleaners for years. My wife had pulmonary fibrosis and the standard of cleaning made her life better. They are flexible in meeting interruptions in my schedule, agreeable to special requests and very reasonably priced.

This company did a clean on a manufactured home after the furniture was moved out. They did everything I asked for and they did an excellent job. The estimate was accurate and I was pleased with the work.

We have been with Rhonda and Custom Cleaning for three years! They do excellent work in a professional manner; arrive on time, pay attention to details, and go above and beyond what is expected!

I was very impressed with Custom Cleaning's professionalism from the start. Rhonda, Grissel, and our cleaning team are amazing! I can't thank them enough for their prompt response to our request for setting up weekly cleaning service for our home. Our cleaning team is prompt and professional, and the two ladies show great attention to detail. I am extremely pleased with Custom Cleaning's service and so glad I found them!

Best cleaning service on the Treasure Coast! Top-notch job, they go above and beyond to meet your needs. Professional, friendly and trustworthy. They use safe and pet friendly products. Work with you to meet your schedule, and follow-up to ensure you're 100% satisfied. They miss nothing when it comes to getting everything clean.
Frequently Asked Questions
How often should I schedule office cleaning services?
+
There are several factors that may affect the frequency of your office cleaning. Here are some of them:
The number and size of your premises
Their current condition
Any extra tasks required
Feel free to contact us with any questions you may have about your commercial cleaning in Hobe Sound and the area!
What makes a good facility cleaner?
+
It can be difficult to find a reliable commercial cleaning service for your workspace, but these features may help you choose one:
Highly-trained and vetted pros
Insurance coverage available
Smooth communication
Satisfaction Guarantee
Eco-friendly approach
Should I prepare for my commercial cleaning appointment?
+
If you decide to hire a professional office cleaning service in Hobe Sound, the whole process will be handled professionally.
Everything from the right equipment and supplies for the job to a checklist is thoroughly planned and tailored to your unique requirements.
Do you offer cleaning to manufacturing plants?
+
Absolutely!
Apart from comprehensively cleaning manufacturing plants, we offer commercial cleaning services to:
Real estate offices
Community clubhouses
Office buildings
Medical offices
Lawyers' offices
Who offers reliable commercial and office cleaning services in Hobe Sound & the region?
+