Expertise-Based Commercial Cleaning Services in Sewall's Point, FL
Let us make your workspace neat and tidy.
Schedule Your Free Estimate

You can depend on our team of experts
Custom Cleaning of the Treasure Coast is at your disposal for different types of specialized commercial and office cleaning services in Sewall's Point and across the region. Our 30 years of experience, trained specialists, and green methods is exactly what your space needs to always be spotless and hygienic. We create and follow a customized checklist, use professional supplies, and go the extra mile for each and every appointment.
Call Today 772-220-7915
Eco-friendly approach
We're proud to follow an eco-friendly approach to ensure you and your employees are healthy and safe. Our green methods are both effective and free from harsh chemicals.
Dependable technicians
Our carefully assembled team consists of expert commercial cleaners. They are experienced, insured, bonded, and covered by workers' comp.
Fast booking
To book an appointment with our team in Sewall's Point & beyond, all you have to do is call 772-220-7915. Feel free to also request a quote and ask questions.
Satisfaction guarantee
We always strive for excellence and client happiness. If necessary, our crew re-cleans your space within 24 hours free of charge as per our satisfaction guarantee.
Fully customized office cleaning
in Sewall's Point
Get to know our detailed commercial cleaning services
Restrooms
Sanitize and disinfect all toilets, urinals, and sinks
Wipe mirrors, partitions, and doors
Clean the walls
Refill the soap and tissue dispensers
Floors
Vacuum and mop all the floors
Tackle the carpets (Add-on service for a fee)
Glass
Squeegee glass partitions
Wipe glass doors
Dust and clean windows (Add-on service for a fee)
Dusting
Dust the counters and railings

Dust walls, AC vents, drapes, and light fixtures
Walls & woodwork
Wipe down doors

Dust baseboards and wooden surfaces
Furniture
Vacuum all the furniture

Wipe counters, shelves, and desks
Kitchens
Wipe the appliances

Scrub the sinks

Take care of the fridge and microwave
Waste disposal
Pick up any papers and documents from the floor and place them on a desk
Miscellaneous
Vacuum the entrance
Sanitize water coolers
Arrange newspapers, fliers, and magazines
*Special requests are accommodated whenever possible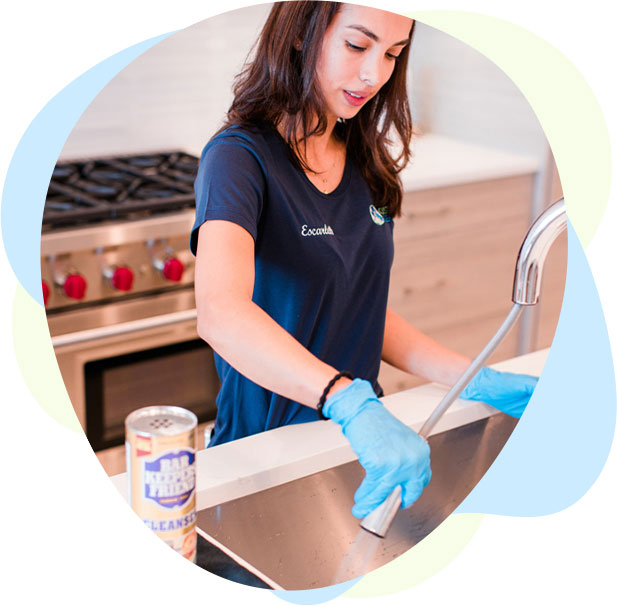 Choose detail-oriented office cleaning services
Our commercial cleaners work hard to keep your space neat and sanitized which will improve the work environment immensely. Our services are based on your needs and preferences as well as any specific requests. Whatever you need, you can count on our expertise.

We have used Custom Cleaners for years. My wife had pulmonary fibrosis and the standard of cleaning made her life better. They are flexible in meeting interruptions in my schedule, agreeable to special requests and very reasonably priced.

This company did a clean on a manufactured home after the furniture was moved out. They did everything I asked for and they did an excellent job. The estimate was accurate and I was pleased with the work.

We have been with Rhonda and Custom Cleaning for three years! They do excellent work in a professional manner; arrive on time, pay attention to details, and go above and beyond what is expected!

I was very impressed with Custom Cleaning's professionalism from the start. Rhonda, Grissel, and our cleaning team are amazing! I can't thank them enough for their prompt response to our request for setting up weekly cleaning service for our home. Our cleaning team is prompt and professional, and the two ladies show great attention to detail. I am extremely pleased with Custom Cleaning's service and so glad I found them!

Best cleaning service on the Treasure Coast! Top-notch job, they go above and beyond to meet your needs. Professional, friendly and trustworthy. They use safe and pet friendly products. Work with you to meet your schedule, and follow-up to ensure you're 100% satisfied. They miss nothing when it comes to getting everything clean.
Frequently Asked Questions
How long should it take to clean an office?
+
The exact time depends on the size of your office in Sewall's Point, its condition, and the type of service and any special requests.
Generally, an office cleaning can take anywhere from one to three hours and more for larger spaces.
How often should an office be cleaned?
+
This mostly depends on the size of the workplace and the number of employees and visitors.
However, typically, you should book an office cleaning service at least once a week or once every two weeks.
What is the price of commercial cleaning services?
+
The cost of commercial cleaning varies depending on the size of the business, the type of services needed, and other factors.
Prices may also vary depending on the frequency of service and any additional requests.
Should you tip commercial cleaners?
+
Tipping is not expected, but it is a nice gesture that can go a long way in showing your appreciation.
You can tip your commercial cleaning team in Sewall's Point as a token of gratitude for a job well done. You can choose the amount or calculate the percentage based on the final cost, depending on the scope of the job and the quality of the service.
Which office & commercial cleaning services in Sewall's Point should you hire?
+
If you're looking for a commercial cleaning company with years of experience, a trained team, and eco-friendly methods, look no further than Custom Cleaning of the Treasure Coast. Whether your business, office space, or facility is big or small, we can handle the task at hand and deliver the desired results. You can count on our expert assistance in Sewall's Point and across Martin County:
Feel free to get in touch with us today and let us do all the work!