Reliable Commercial Cleaning Service in Port St. Lucie, FL
Let pros take care of your office or shop so you can focus on the bottom line.
Schedule Your Free Estimate

There is no substitute for expert commercial cleaning
We're flexible and customer-oriented office cleaning professionals. Depending on the line of business you're in, we'll arrange for weekly or biweekly commercial cleaning in Port St. Lucie to keep your workplace healthy, shiny, and inviting. If you have any special wishes, we'll work hard to incorporate your preferences since we place great emphasis on client satisfaction. We have a 24-hour guarantee in place, so if you find faults or feel like we've fallen below your standards, we'll be there to address the issue.
Call Today 772-220-7915
Trained and tested pros
We recruit only adept pros who can maintain our high standards without exception. We ensure your absolute peace of mind when placing your trust in our insured and vetted personnel.
Environmentally-friendly methods
Our team cares about your health and the future of the environment in Port St. Lucie. This is why we make no compromises when it comes to using green products and non-polluting methods.
Effortless booking and scheduling
We foster a personal touch, which is why you can call us over the phone. Working with our commercial and office cleaning company is easy, streamlined, and requires a single call to work out all the details.
Customer-oriented approach
Having long-standing and content customers is what we're focused on. We have a unique 100% guarantee in place that ensures we'll send a crew to fix any issues within 24 hours of your service.
Flexible and professional commercial cleaners
you can rely on
What's included in our professional commercial cleaning service
Restrooms
Scrubbing and disinfection of sinks, toilets, and urinals
Polishing of mirrors
Refilling the soap and paper towel dispensers
Cleaning of walls, partitions, and other hardware
Floors
Vacuuming of floors
Damp mopping of hard floor surfaces
Wiping of bathroom floors with a germicidal solution
Carpet cleaning – available at an additional cost
Dusting
Dusting of counters and railings
Attending to walls, light fixtures, shutters, roman blinds, and other drapery and panels
Dusting of indoor AC units
Woodwork and paneling
Weekly wiping of doors and window frames
Taking care of baseboards, paneling, and other carpentry
Furniture
Dusting and vacuuming of the furniture
Dusting and wiping of desks, tabletops, countertops, shelves, workbenches, and other surfaces
Glass
Sanitizing of lited doors
Wiping down of glassware, crystal, and other vitrics
Dusting and window wiping – service available at an additional charge
Kitchen
Disinfecting of kitchen appliances
Thorough cleaning and disinfection of the fridge and microwave
Scrubbing of the sink
Waste disposal
Taking care of the trash and other refuse
Cleaning up of debris and litter that is lying around the workplace
Other
Tidying up of the entrance
Arranging the papers, magazines, and other office material
Disinfection of the water cooler
*We'll accommodate special requests whenever possible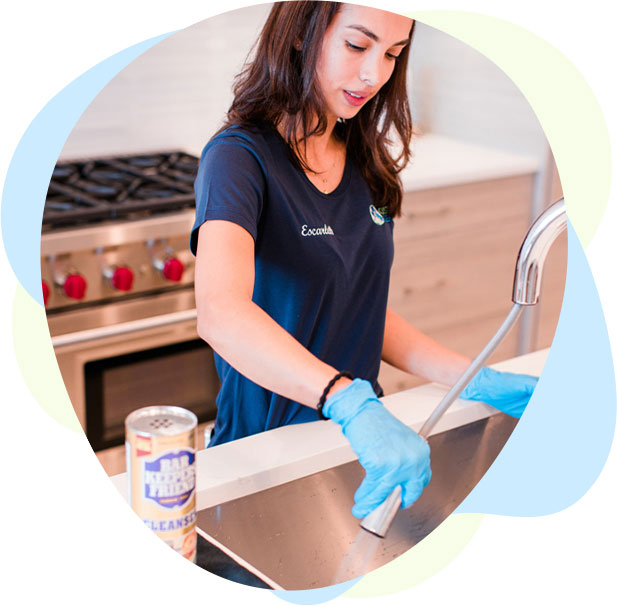 Dependable office cleaning service in Port St. Lucie
Our reputable commercial cleaning service uses proven products made from eco-friendly ingredients. We'll leave your property bright and crisp without the use of volatile toxic chemicals that cause respiratory and dermatological conditions. Working with our diligent team will ensure that your workplace will maintain its healthy and spick-and-span appearance ready to welcome your staff and serve your customers.

We have used Custom Cleaners for years. My wife had pulmonary fibrosis and the standard of cleaning made her life better. They are flexible in meeting interruptions in my schedule, agreeable to special requests and very reasonably priced.

This company did a clean on a manufactured home after the furniture was moved out. They did everything I asked for and they did an excellent job. The estimate was accurate and I was pleased with the work.

We have been with Rhonda and Custom Cleaning for three years! They do excellent work in a professional manner; arrive on time, pay attention to details, and go above and beyond what is expected!

I was very impressed with Custom Cleaning's professionalism from the start. Rhonda, Grissel, and our cleaning team are amazing! I can't thank them enough for their prompt response to our request for setting up weekly cleaning service for our home. Our cleaning team is prompt and professional, and the two ladies show great attention to detail. I am extremely pleased with Custom Cleaning's service and so glad I found them!

Best cleaning service on the Treasure Coast! Top-notch job, they go above and beyond to meet your needs. Professional, friendly and trustworthy. They use safe and pet friendly products. Work with you to meet your schedule, and follow-up to ensure you're 100% satisfied. They miss nothing when it comes to getting everything clean.
Frequently Asked Questions
What is included in commercial cleaning tasks?
+
Not all companies pay the same attention to detail or offer the same level of service. At our company, we specialize in commercial and office cleaning services and maintenance.
Whether you need regular maintenance or occasional cleaning in Port St. Lucie, our technicians are trained to excel at all types of cleaning. If you book us we'll make sure to:
Vacuum and wet mop the floors
Do the dusting
Remove obvious glass marks
Empty the trash and collect litter
Clean and sanitize the toilets, basin, and the surrounding area
Scrub the kitchen and appliances
Sanitize the door knobs and window handles
What is the difference between janitorial and commercial cleaning?
+
The main difference is in the level of detail. Janitorial service is similar to maid service since it takes care of daily tasks while professional commercial cleaning delves into far greater detail.
Our professional cleaners will take care of everyday cleaning tasks but they will also ensure that your workspace is properly sanitized and that the hard-to-reach surfaces and often overlooked corners get cleaned as well.
How often should the office be cleaned?
+
It mostly depends on the type of business and the number of employees. If you want to maintain a happy and healthy workplace, it's advisable to clean the office once a week, or at least twice a month.
Regular office cleaning in Port St. Lucie will keep the property fresh and prevent the piling up of dirt, bacteria, and mold. This way the office space will remain a pleasant place to work and visit and provide added value to your business operation.
How long will it take to clean an office?
+
It depends on the size of the office and the general state of the property. If your office hasn't been cleaned for a long time, it may require a deep clean which takes more time than regular weekly maintenance.
Our professional office cleaning company relies on vast experience, special methodology, and the use of professional tools that make the whole process faster without sacrificing the quality of service provided.
Who runs the premier commercial cleaning operation in Port St. Lucie?
+