Hire experienced specialists you can count on
With over 30 years of experience, we've worked hard to earn the leading position in the industry. We provide business owners in Stuart, FL and across the area with comprehensive commercial cleaning, custom solutions, and dedicated customer care. Our crew of skilled experts uses cutting-edge tools and supplies and adopts a detail-oriented approach to ensure your facility is orderly and hygienic, be it an office building, a community center, or a manufacturing plant.
Call Today 772-220-7915
Green practices
By using products that are eco-friendly, we're able to both take excellent care of your workplace and keep it healthy. You can trust our green methods to keep your facility germ-free and fresh.
Reliable specialists
We've carefully put together a team of skilled technicians who are fully bonded, licensed, and insured to ensure your peace of mind. We also make sure all staff are covered by workers' compensation.
Hassle-free booking
Scheduling your commercial cleaning in Stuart is as easy as dialing 772-220-7915. Our reliable customer service will set up your appointment or offer an estimate quickly and efficiently.
Satisfaction Guarantee
We ensure excellence by hiring only qualified and experienced professionals. We also offer a 100% satisfaction guarantee for all our services and react within 24 h in case you're unhappy with our work.
Entrust your office cleaning
in Stuart, FL to experts
Comprehensive commercial cleaning services at your disposal
Restrooms
Sanitize all toilets, sinks, and urinals each visit.
Bright partitions and surfaces, polish the walls as needed.
Clean mirrors each visit.
Refill soap, tissue, and towel dispensers from your stock.
Floor maintenance
Mop bathroom floors with a germicidal cleaner each visit.
Mop hard floors each visit.
Vacuum floors and carpets each visit.
Carpet Cleaning – additional charge.
Floor Stripping & Sealing – additional charge.
Glass maintenance
Clean glass partitions as needed.
Clean all glass doors each visit.
Exterior & Interior Window Cleaning – additional charge.
Dusting
Dust all railing, counters, furniture, and other horizontal surfaces each visit.
Dust walls, light fixtures, drapes, A/C vents, as needed.
Wall & woodwork maintenance
Clean doors weekly.
Spot clean walls as needed.
Clean baseboards as needed.
Furniture
Vacuum upholstery as needed.
Clean tabletops, shelves, counters, and desks each visit.
Kitchen
Wipe down exteriors of appliances and countertops
Clean the interior of the refrigerator and microwave as needed.
Polish sinks each visit.
Empty our trash cans and line with bags from your stock.
Waste disposal
Empty out trash cans, line with bags from your stock.
Place papers found on the floor on the nearest desk.
Miscellaneous maintenance
Neatly arrange magazines and furniture after each cleaning.
Sanitize coolers or water fountains each visit.
Sweep the office/building entrance each visit.
Keep janitorial supplies orderly.
*Special requests are accommodated whenever possible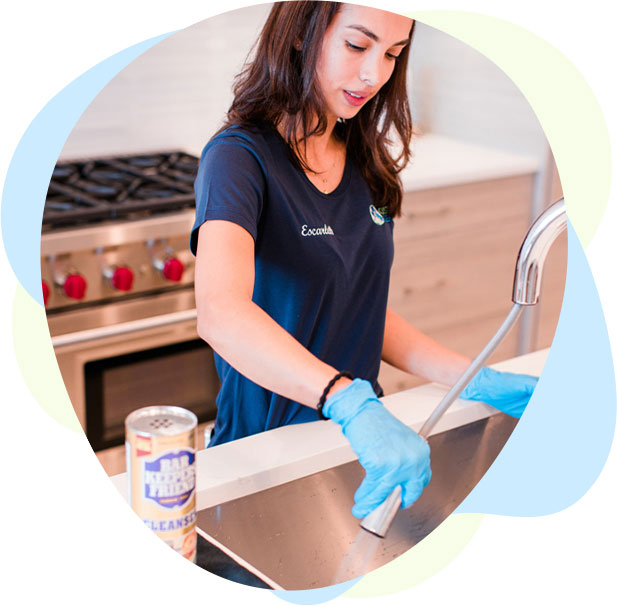 Hire our trusted office cleaning services in Stuart
Our dedicated team will make sure all areas and surfaces in your facility are professionally sanitized, and disinfected. We take a customized approach and go above and beyond to perform every task with meticulous care and tailor it to your specific requirements.

We have used Custom Cleaners for years. My wife had pulmonary fibrosis and the standard of cleaning made her life better. They are flexible in meeting interruptions in my schedule, agreeable to special requests and very reasonably priced.

This company did a clean on a manufactured home after the furniture was moved out. They did everything I asked for and they did an excellent job. The estimate was accurate and I was pleased with the work.

We have been with Rhonda and Custom Cleaning for three years! They do excellent work in a professional manner; arrive on time, pay attention to details, and go above and beyond what is expected!

I was very impressed with Custom Cleaning's professionalism from the start. Rhonda, Grissel, and our cleaning team are amazing! I can't thank them enough for their prompt response to our request for setting up weekly cleaning service for our home. Our cleaning team is prompt and professional, and the two ladies show great attention to detail. I am extremely pleased with Custom Cleaning's service and so glad I found them!

Best cleaning service on the Treasure Coast! Top-notch job, they go above and beyond to meet your needs. Professional, friendly and trustworthy. They use safe and pet friendly products. Work with you to meet your schedule, and follow-up to ensure you're 100% satisfied. They miss nothing when it comes to getting everything clean.
Frequently Asked Questions
What is the meaning of commercial cleaning?
+
Commercial cleaning is performed by professional technicians hired by a company.
Leisure centers, offices, hotels, and any other business facilities in Stuart and the nearby area can hire reliable commercial cleaners to make sure their premises are properly taken care of.
How do I choose commercial cleaning services?
+
Before reaching out to a commercial cleaning company in Stuart there are a couple of things you should know about them.
Learning more about a company before you hire their services will help you find the one that best fits your needs. Here's what to look for:
The range of services they offer
Certified, bonded, and insured staff
Client reviews
Their industry experience
Transparent pricing
What is included in an office cleaning?
+
An office cleaning service typically covers high-traffic areas and divides the tasks into those that are performed on a daily, weekly and monthly basis.
A reliable company in Stuart will provide you with a checklist so you can choose what you'd like them to do and how often.
How long should it take to clean an office?
+
According to the general office cleaning industry standard, one person will clean 3000 to 4000 square feet in one hour.
For example, if you have a 6500 square feet office, one person can properly take care of it in about 2 hours and 15 minutes.
Where in Stuart can you find experts who provide comprehensive commercial cleaning?
+