Expert Move-In and Move-Out Cleaning in Stuart, FL
Let our experienced specialists take proper care of your old or new home.
Schedule Your Free Estimate

Skilled experts you can lean on
Custom Cleaning of Treasure Coast is a top-tier company that delivers reliable move-in and move-out cleaning services in Palm City and the surrounding communities. Our experienced team of dedicated and skilled technicians utilizes top-of-the-line supplies and equipment and takes a meticulous approach to make sure every spot in your new and old home is properly disinfected. We'll go above and beyond to make our home spick and span so you and your family can enjoy a safe and hygienic environment.
Call Today 772-220-7915
Green products
We care about your safety and health, which is why we prioritize green methods and supplies that contain natural ingredients rather than harsh and toxic chemicals.
Diligent professionals
We work with experienced and well-trained professionals who deliver premium-quality and meticulous services. Each of our team members is certified, insured, and bonded.
Easy booking
Book our reliable services by giving us a call at 772-220-7915. We'll provide you with a precise estimate for move-in or move-out cleaning or schedule your appointment.
Guaranteed satisfaction
We strive to ensure every single client is satisfied, which is why we provide a 100% guarantee. In case you're not happy, we'll come back and reclean the area in 24 hours.
Dependable move-in and move-out cleaning
Palm City, FL
Meticulous move-in and move-out cleaning services
Kitchen
Tackling Countertops & Backsplashes
Washing Sink, Faucet & Drain. Polish if necessary.
Taking care of the Outside of cabinets
Tidying Outside of Appliances
Emptying Trash Can & Wiping Spills off outside & inside of Trash Can if necessary.
Vacuuming & Mop Floors
Maintaining Inside of Refrigerator & Oven (Available as Add-on Service with Additional Fees)
Tackling Inside of Cabinets (Available as Add-on Service with Additional Fees)
Bathroom
Clean & Sanitize outside of Cabinets
Wash & Sanitize Toilet Bowl, including wall areas, surrounding floor & outside surfaces.
Sanitize Tub & Shower
Squeegee & Clean Tub/Shower Glass & Mirrors.
Vacuum and mop the floor
Emptying Trash Cans
Sanitize & Take care of Inside of Cabinets (Available as Add-on Service with Additional Fees) 
Bedrooms & Common areas
Dusting reachable Light Fixtures (expensive chandeliers excluded)
Wiping down the window frames
Clean & Sanitize Light Switches
Wipe/Clean Door Handles, Interior Doors & Door Frames
Wipe & Clean Baseboards
Vacuum & Mop Floors
Patio/Porch Tidying (Available as Add-on Service with Additional Fees)
Garage Maintenance (Available as Add-on Service with Additional Fees) Dusting Window Treatments with Vacuum or Duster. (IF window treatments are in need of a DEEP cleaning/wiping, extra time will need to be allowed, agreed upon and charged accordingly)
Squeegee up to 2 sets of sliders. (Additional Windows or Sliders- Available as Add-on Service with Additional Fees)
*Special requests are accommodated whenever possible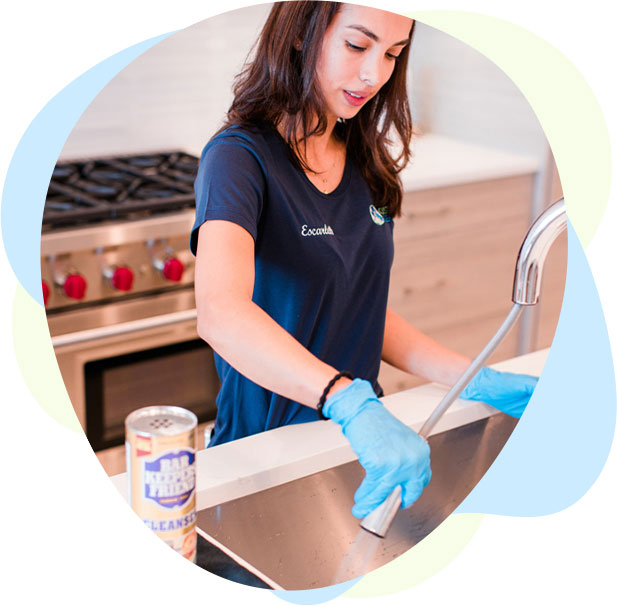 Reach out to a reliable move-in or move out cleaning company
We'll schedule the time that best fits your routine and arrive at your place accordingly to perform a thorough cleanup of your old or new apartment or house. Feel free to select some of our add-ons if you need additional help. Either way, we'll go out of our way to deliver the performance you and your home deserve.

We have used Custom Cleaners for years. My wife had pulmonary fibrosis and the standard of cleaning made her life better. They are flexible in meeting interruptions in my schedule, agreeable to special requests and very reasonably priced.

This company did a clean on a manufactured home after the furniture was moved out. They did everything I asked for and they did an excellent job. The estimate was accurate and I was pleased with the work.

We have been with Rhonda and Custom Cleaning for three years! They do excellent work in a professional manner; arrive on time, pay attention to details, and go above and beyond what is expected!

I was very impressed with Custom Cleaning's professionalism from the start. Rhonda, Grissel, and our cleaning team are amazing! I can't thank them enough for their prompt response to our request for setting up weekly cleaning service for our home. Our cleaning team is prompt and professional, and the two ladies show great attention to detail. I am extremely pleased with Custom Cleaning's service and so glad I found them!

Best cleaning service on the Treasure Coast! Top-notch job, they go above and beyond to meet your needs. Professional, friendly and trustworthy. They use safe and pet friendly products. Work with you to meet your schedule, and follow-up to ensure you're 100% satisfied. They miss nothing when it comes to getting everything clean.
Frequently Asked Questions
What should I clean when I first move in?
+
When you first arrive at your new home in Palm City, it's essential that you perform a thorough move-in cleaning.This involves all the areas around your house, including kitchen and all the appliances and surfaces, bathrooms, ceilings, walls, floors, and all the nooks and crannies.
What is included in a move in cleaning?
+
When you hire a reliable move-in cleaning company, you'll receive a comprehensive service that leaves your new home spick and span.
It includes dusting all surfaces, removing cobwebs, wet wiping spots such as light fixtures, cleaning, window frames, doors, and baseboards, scrubbing and disinfecting kitchen and bathroom surfaces, vacuuming and mopping floors.
What happens if you don't clean when you move out?
+
Extensive move out cleaning is important for several reasons.
If you've been renting your home in Palm City, your agreement probably stipulates that you leave the place in the exact same condition you found it. Otherwise, you could lose a part or all of your deposit. If you're selling your old home, you want to have it presentable for potential buyers.
How long does move out cleaning take?
+
The time necessary to perform a thorough move-out cleaning depends on the current state of your home and the size of it.
If it's a three bedroom house, it will typically take between 6 and 7 hours to perform a thorough disinfection.
Where can I find comprehensive move-in and move-out cleaning services in Palm City, FL & beyond?
+