Methodical Move-In and Move-Out Cleaning in Port St. Lucie, FL
Let us take the stress out of your relocation.
Schedule Your Free Estimate

Leading team of spruce-up experts is at your disposal
We've gathered over 30 years of valuable experience that enables us to position as the foremost move-in/move-out cleaning service in the broader Port St. Lucie area. Our reliable crew has been helping people who are in the process of shifting between addresses clean out their previous residences and start their new lives in healthy and fresh environments. With our customer satisfaction guarantee, you can rest assured that we take no task for granted.
Call Today 772-220-7915
Vetted workforce
All members of our team are exactingly background-checked because your peace of mind is our priority. You can be certain that all our personnel is bonded, insured, and undergo ongoing training.
Green approach
Our understanding and appreciation for the environment is illustrated by our commitment to using non-caustic and non-toxic supplies whenever possible. With our pros, you can rest easy knowing your loved ones are safe.
Satisfaction guaranteed
As a customer-oriented business, we are willing to adjust to your preferences and hear your opinion. If you're not completely satisfied, we'll get back to Port St. Lucie within 24 hours to fix the issue so you can enjoy the full comfort of your home.
Easy booking process
Booking our move-in/move-out cleaning service is a one-step process. Just dial 772-220-7915, fill us in on some crucial information, and we'll furnish you with a prompt and transparent quote or schedule an in-home estimate.
Trustworthy & motivated team
of cleaning professionals
Check out our comprehensive checklist in Port St. Lucie
Livingroom, Bedrooms & Corridors
Wiping of the doors, baseboards, and window frames and sills
Vacuuming and damp mopping of floors
Thorough cleaning of wooden panels
Disinfection of high-touch areas
Dusting of lighting fixtures and lamps (excluding expensive chandeliers)
Squeegeeing 2 sets of sliders (Additional sets offered as an add-on service)
Porch and patio sweep-up (Offered as an add-on service)
Taking care of the garage
Kitchen
Vacuuming and damp mopping of floors
Cleaning cabinet doors
Sanitizing of the faucet, sink, and drain
Scrubbing inside of kitchen cabinets (Offered as an add-on service)
Scrubbing of backsplashes & countertops
Cleaning the trash can and gathering the refuse
Cleaning of appliance finishes, oven range, and outside surfaces
Tackling the inside of refrigerator & oven (Offered as an add-on service)
Bathroom
Scrubbing and sanitizing the washbasin
Sanitizing of the shower area and the tub
Cleaning the outside of cabinets and shelves
Emptying trash cans
Vacuuming and damp mopping of the floor
Wiping of vitreous surfaces, including mirrors, shower doors, and other glass details
Sanitizing and disinfecting the toilet bowl and tank
Wiping and sanitizing the inside of bathroom cabinets (Offered as an add-on service)
*We love to entertain your special wishes whenever possible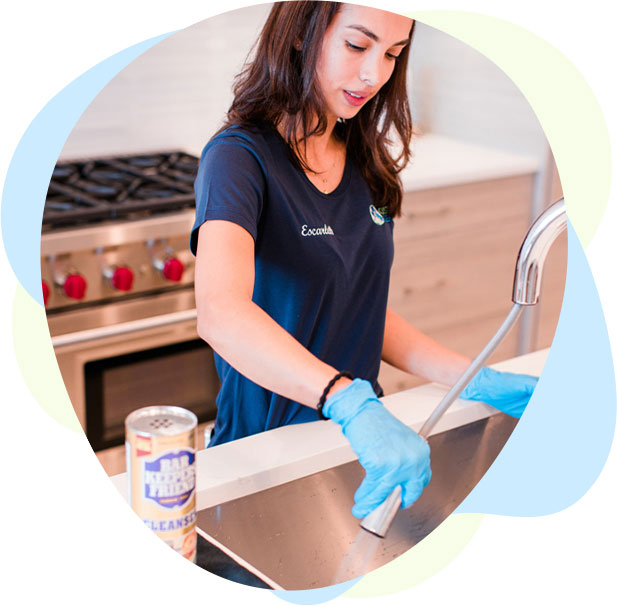 Eco-friendly move-in/out cleaning that doesn't compromise on quality
With a wide selection of eco-friendly products, we have the solution to cover every eventuality and cater to your every whim in Port St. Lucie. Our meticulous cleaning service team welcomes your feedback and proposals. We're determined, energetic, pay great attention to nuances, and are always looking for ways to improve and build strong and lasting relationships with our treasured clients.

We have used Custom Cleaners for years. My wife had pulmonary fibrosis and the standard of cleaning made her life better. They are flexible in meeting interruptions in my schedule, agreeable to special requests and very reasonably priced.

This company did a clean on a manufactured home after the furniture was moved out. They did everything I asked for and they did an excellent job. The estimate was accurate and I was pleased with the work.

We have been with Rhonda and Custom Cleaning for three years! They do excellent work in a professional manner; arrive on time, pay attention to details, and go above and beyond what is expected!

I was very impressed with Custom Cleaning's professionalism from the start. Rhonda, Grissel, and our cleaning team are amazing! I can't thank them enough for their prompt response to our request for setting up weekly cleaning service for our home. Our cleaning team is prompt and professional, and the two ladies show great attention to detail. I am extremely pleased with Custom Cleaning's service and so glad I found them!

Best cleaning service on the Treasure Coast! Top-notch job, they go above and beyond to meet your needs. Professional, friendly and trustworthy. They use safe and pet friendly products. Work with you to meet your schedule, and follow-up to ensure you're 100% satisfied. They miss nothing when it comes to getting everything clean.
Frequently Asked Questions
What is the difference between a move in cleaning and a deep cleaning?
+
Deep cleaning service is significantly more thorough than regular sprucing-up and is usually done while the rooms are fully furnished and people are still living there. On the other hand, move-in cleaning gives you an ideal opportunity to scrub every nook and cranny with the furnishings out of the way.
Contact our dependable professionals and we'll ensure that your new living space is sanitized, safe, and provides a healthy foundation to start building your life from scratch.
How much cleaning should I do before moving out?
+
People usually perform thorough cleanings when they're moving out to leave a good impression and hand over the apartment in optimal condition. However, it mostly depends on the agreement you have with your landlord or the person you sold your home to.
Getting our skilled technicians to do a complete scrub when you're relocating will save your time and effort, help you recoup the deposit money, or impress potential buyers of your property.
What is the most important room to keep clean?
+
Bathrooms and kitchens would be the obvious answer for a couple of reasons. Bathrooms and kitchens have water sources that make them breeding grounds for bacteria and other types of germs so they have to be taken care of paying special emphasis on the sanitation of excessively moist areas.
The bathroom should be a temple of cleanliness, while in the kitchen we prepare and store our food. They are both particularly vulnerable and exposed to microorganisms so it's best to let the pros do their magic and keep these spaces clean and hygienic to prevent any health risks. Needless to say, our extensive move-out/move-in cleaning service in Port St. Lucie will give your kitchens and bathrooms the attention they deserve.
What cleaning supplies do you need when you move out?
+
Assembling quality move-out cleaning supplies is not as easy or cheap as you may think. With a host of options that are offered on the market, it takes a lot of time, know-how, and careful deliberation to pick the right products.
Abrasive, polluting, and toxic fluids and supplies may cause asthmatic or dermatological issues and endanger your health and long-term well-being. Save your time and money by entrusting us to smart-up your home after you've changed your residence.
Where do I book expert move-in/move-out cleaning services near me in Port St. Lucie?
+