Trained professionals at your disposal
We provide detailed move-in and move-out cleaning services in Sewall's Point and other nearby areas. Our experienced technicians are highly trained for detail-oriented relocation clean-ups. We can take care of your old home and help you settle into a new one. For the best results, we use eco-friendly supplies, professional equipment, and detailed checklists. We take good care of your living space so that each nook and cranny is tidy and hygienic.
Call Today 772-220-7915
Eco-friendly maintenance
We want to ensure a safe and healthy environment in your home in Sewall's Point so we primarily use green and gentle methods and supplies.
Consistent results
Our hand-picked team consists of well-trained and highly experienced technicians who are dedicated to delivering the desired results each time.
Easy booking
All you have to do is give us a call, and our professionals will provide you a fair and accurate quote or help you book an appointment at your convenience.
Guaranteed satisfaction
All our services, including move-in and move-out cleaning, come with a 100% satisfaction guarantee as our number one goal is your happiness.
Detail-oriented move-in and move-out cleaning service
in Sewall's Point
Comprehensive move-in and move-out cleaning
Kitchen
Wiping countertops and backsplashes
Wiping the outside of cabinets
Taking care of the sink, faucet & drain
Tackling the outside of appliances
Vacuuming and mopping the floors
Emptying the trash can & getting rid of spills
Tidying up the inside of cabinets (Add-on service for a fee)
Clearing out the inside of the fridge and oven (Add-on service for a fee)
Bathroom
Disinfecting and sanitizing the toilet bowl
Sanitizing the outside of cabinets
Scrubbing the tub and shower
Vacuuming and mopping the floor
Wiping the glass doors and mirrors
Emptying garbage cans
Clearing out the inside of cabinets (Add-on service for a fee)
Bedrooms & common areas
Dusting light fixtures
Cleaning the window frames
Sanitizing light switches
Wiping door handles and door frames
Wiping baseboards
Vacuuming and mopping all floors
Tidying up the patio or porch (Add-on service for a fee)
Clearing out the garage (Add-on service for a fee)
Squeegeeing up to two sets of sliders (More sets available as an add-on service for a fee)
*Special requests are accommodated whenever possible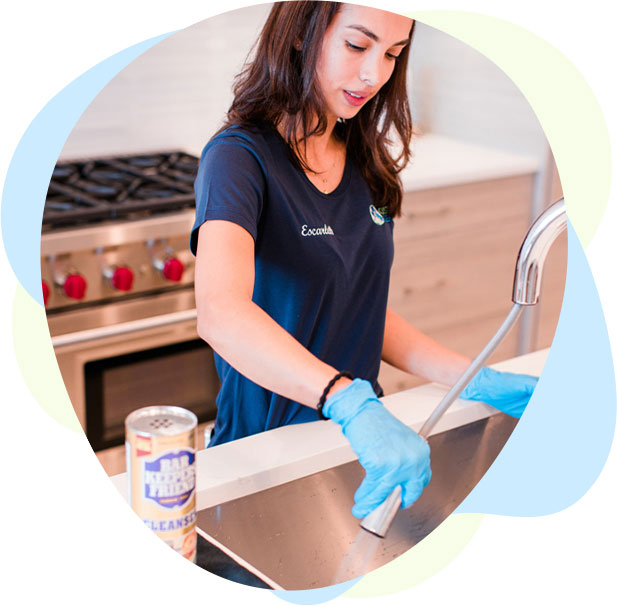 Leave your move-in or move-out cleaning to our pros
All our technicians are fully insured, bonded and covered by workers' compensation. You can rest assured your new or old home will be taken care of just the way it deserves if you book our specialized services. Depending on your specific situation, feel free to take advantage of our add-ons and ask for any other special requests you may have. We're at your disposal!

We have used Custom Cleaners for years. My wife had pulmonary fibrosis and the standard of cleaning made her life better. They are flexible in meeting interruptions in my schedule, agreeable to special requests and very reasonably priced.

This company did a clean on a manufactured home after the furniture was moved out. They did everything I asked for and they did an excellent job. The estimate was accurate and I was pleased with the work.

We have been with Rhonda and Custom Cleaning for three years! They do excellent work in a professional manner; arrive on time, pay attention to details, and go above and beyond what is expected!

I was very impressed with Custom Cleaning's professionalism from the start. Rhonda, Grissel, and our cleaning team are amazing! I can't thank them enough for their prompt response to our request for setting up weekly cleaning service for our home. Our cleaning team is prompt and professional, and the two ladies show great attention to detail. I am extremely pleased with Custom Cleaning's service and so glad I found them!

Best cleaning service on the Treasure Coast! Top-notch job, they go above and beyond to meet your needs. Professional, friendly and trustworthy. They use safe and pet friendly products. Work with you to meet your schedule, and follow-up to ensure you're 100% satisfied. They miss nothing when it comes to getting everything clean.
Frequently Asked Questions
What should you clean when you move in?
+
When you get a new home, you should clean all the surfaces, including walls, windows, floors, and furniture. You should also wipe the appliances, vacuum, dust, and mop all floors. It's a daunting task, so it may help you to hire professional move-in cleaning services. This way, you'll know the job is done well, and you'll be able to focus on other things regarding your relocation to or from Sewall's Point.
Is professional move-in cleaning necessary?
+
Hiring a reliable move-in cleaning service is definitely a good idea if you want to ensure that your new home is hygienic and free of any dirt, dust, and debris. Feel free to give us a call to learn more about our offer and how we can help you simplify your relocation.
What does move-out cleaning include?
+
A professional move-out cleaning service usually entails vacuuming and mopping all floors, dusting and wiping down all surfaces, scrubbing and disinfecting bathrooms and kitchens, cleaning windows and mirrors, and dusting and wiping down baseboards and walls. Depending on your needs, you can also ask for add-on services and request any tasks that aren't included.
How much do move-out cleaning services cost?
+
The cost of a move-out cleaning service in Sewall's Point typically depends on the size of your home and the amount of tidying up necessary. If you have any special requests, these may also affect the final price.
Who should I hire for expert move-in/move-out cleanings near me in Sewall's Point, FL?
+