Professional Residential Cleaning Service in Stuart, FL
Keep your home sparkling clean with the help of our dedicated house cleaners.
Schedule Your Free Estimate

Your experienced residential cleaners in Stuart
When it comes to keeping your home fresh, healthy, looking good, and smelling great, you can't go wrong with our seasoned and dedicated house cleaners. With years of experience under their belt, our pros are well-equipped to take care of every nook and cranny of your home efficiently and quickly. They'll combine advanced industry practices and advanced tools and supplies to ensure a high quality of service. You can count on them to give their best to ensure your home is taken care of in a professional manner, leaving no corner overlooked.
Call Today 772-220-7915
Ecological supplies
We use eco-friendly supplies and products to ensure that you, your household and your pets are safe and healthy. Our products leave no toxic residue on your furniture or in the air
Years of experience
Our qualified experts have years of experience in residential home cleaning across Stuart and the rest of FL. This enables them to provide you with quality services.
Precise & free estimate
You can rely on us to provide you with an accurate estimate of your chosen service. You simply fill in a short form on our website and we'll contact you with the information.
100% satisfaction
Your happiness with our services is our top priority. This is why we offer a satisfaction guarantee for our housekeeping to all of our clients in Stuart and the surrounding areas.
Rely on our residential maid services
for a tidy home
Enjoy weekly or bi-weekly residential cleaning in Stuart
Kitchen
Removing spider website
Wiping countertops and backsplashes
Wiping outsides of cabinets where necessary.
Taking care of appliance exteriors. Polishing if necessary.
Wiping down window sills
Dusting and vacuuming window sills
Sanitizing light switches
Wiping doors and woodwork and sanitizing all door knobs
Taking care of the drains and the kitchen sink faucet as well as polishing if necessary
Emptying trash cans
Vacuuming and mopping floors
Taking care of appliance interiors (Add-on service with an additional fee)
Bathroom
Removing spider web
Sanitizing cabinet exteriors
Taking care the tub and shower
Cleaning and squeegeeing tub, shower, and mirror glass
Sanitizing sinks and countertops
Sanitizing the whole toilet bowl as well as surrounding exterior floors and walls
Sanitizing light switches
Wiping doors and woodwork
Sanitizing door knobs
Taking out the trash
Vacuuming and mopping the floors
Bedrooms & Common areas
Removing spider webs
Wiping down window sills to remove buildup and dust
Dusting all the light fixtures we can reach except expensive chandeliers
Sanitizing light switches
Dusting and cleaning all horizontal surfaces and all items present on them
Wiping interior door frames and doors, as well as handles
Dusting baseboards
Vacuuming and mopping floors
Taking care of the porch and the patio ( Add-on Service with Additional Fees)
Changing bed linens (Additional beds for a Small Additional Fee)
Squeegeeing as many as 2 slider sets (Additional Windows or Slider Available as Add-on Service with Additional Fees)
Using vacuum or duster to handle window treatments (IF window treatments require DEEP wiping, it requires extra time and charges as per previous agreement)
*Special requests are accommodated whenever possible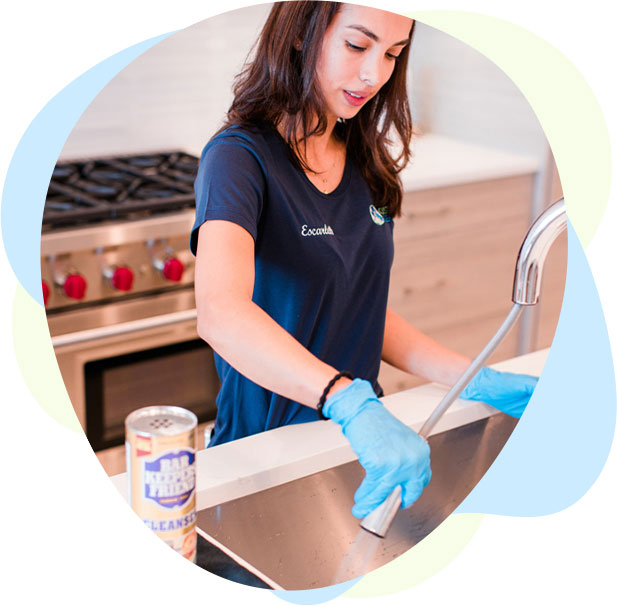 Benefit from working with one of the best house cleaners in Stuart
When you work with a reputable and experienced company such as ours, you can expect a high level of service and attention to detail. Qualified residential cleaners will use quality products and trusty equipment to take care of your home from top to bottom. They will also take the time to understand your specific needs and preferences in order to tailor their services to meet your unique requirements.

We have used Custom Cleaners for years. My wife had pulmonary fibrosis and the standard of cleaning made her life better. They are flexible in meeting interruptions in my schedule, agreeable to special requests and very reasonably priced.

This company did a clean on a manufactured home after the furniture was moved out. They did everything I asked for and they did an excellent job. The estimate was accurate and I was pleased with the work.

We have been with Rhonda and Custom Cleaning for three years! They do excellent work in a professional manner; arrive on time, pay attention to details, and go above and beyond what is expected!

I was very impressed with Custom Cleaning's professionalism from the start. Rhonda, Grissel, and our cleaning team are amazing! I can't thank them enough for their prompt response to our request for setting up weekly cleaning service for our home. Our cleaning team is prompt and professional, and the two ladies show great attention to detail. I am extremely pleased with Custom Cleaning's service and so glad I found them!

Best cleaning service on the Treasure Coast! Top-notch job, they go above and beyond to meet your needs. Professional, friendly and trustworthy. They use safe and pet friendly products. Work with you to meet your schedule, and follow-up to ensure you're 100% satisfied. They miss nothing when it comes to getting everything clean.
Frequently Asked Questions
How often should I use residential cleaning services?
+
The best way to determine the ideal frequency is to consult with professional residential home cleaners.
They will be able to assess your needs and recommend a weekly or bi-weekly cleaning schedule that fits your lifestyle.
How do I choose a residential cleaning service?
+
The best way to choose a company is to research its offers, experience and reviews from other clients.
You can give them a call and ask any questions you may have before you make your decision.
What are the benefits of using residential cleaning services?
+
While there are many amazing benefits to hiring professionals to perform housekeeping for your home in Stuart, FL, the most important one is their experience and qualifications.
Professionals have the training and experience needed to take care of the house efficiently and they have access to high-quality equipment and supplies. As a result, they can usually get the job done faster and more thoroughly than the average homeowner.
How much do residential cleaning services cost?
+
The price of the service can depend on many factors, including the size of the home and the frequency of the service.
Luckily, you don't have to guess. All you have to do is request a quote from your chosen house cleaner and get a precise estimate.
Where in Stuart and the surrounding area can I find high-quality house cleaning services?
+
Custom Cleaning of the Treasure Coast is your solution to a fully sanitized home. Our dedicated experts will work flexibly around your schedule to ensure that your home is always fresh and tidy, even when life gets busy.
In addition to residential maid services across Stuart, we're proud to offer you our detail-oriented residential cleaning services in a wide range of surrounding areas. Feel free to contact us if you need expert housekeeping services in Port St. Lucie or if you require a comprehensive home cleanup in Jensen Beach.
It doesn't matter if you live near Riverwalk Park or Shepard Park, our pros will be punctual and well-prepared when they arrive at your home. Reach out to us today to see what we can do for you!