Trusted Move-In and Move-Out Cleaning Service in Hobe Sound, FL
Our experts can make your old or new residence spotless with ease.
Schedule Your Free Estimate

A team of experts you can count on
Our priority is to provide excellent customer service and personalized home maintenance solutions that cater to your specific requirements. We specialize in delivering comprehensive move-in and move-out cleaning services in Hobe Sound and surrounding areas, aiming to make your relocation as effortless and stress-free as possible. Our team understands that every home and every move is different, which is why we work closely with you to create a tailored plan that fits your schedule, preferences, and budget. Don't hesitate to contact us today.
Call Today 772-220-7915
Eco-conscious methods
We implement eco-friendly and natural products and supplies, ensuring the safety of your family, gentle treatment of surfaces, and zero harm to the environment.
Trustworthy technicians
To ensure your trust and comfort, all members of our team are bonded, insured, and certified. They continuously hone their skills through ongoing training.
Simple booking process
Give us a call at 772-220-7915 to inquire about our services, receive a free and accurate cost estimate, and schedule an appointment in just minutes.
Satisfaction guarantee
Our 100% satisfaction guarantee ensures your happiness with every booking. If you're not happy with the results, contact us in 24 hours and we'll redo the area free of charge.
Exhaustive move-in and move-out cleaning
in Hobe Sound, FL
All-encompassing move-in and move-out cleaning services in Hobe Sound
Kitchen
Sanitizing countertops
Wiping backsplashes
Wiping outside of cabinets
Scrubbing the sink, including faucet & Drain
Wiping outside of appliances
Emptying & cleaning all waste containers
Vacuuming & mopping the floors
Scrubbing the inside of oven & refrigerator (optional extra with an additional fee)
Wiping the inside of cabinets (optional extra with an additional fee) 
Bathroom
Wiping the outside of cabinets
Washing & sanitizing tub & shower
Sanitization of toilet bowl & surrounding surfaces
Cleaning mirrors & glass surfaces
Vacuuming & mopping the floors
Emptying & cleaning all waste containers
Wiping inside of cabinets (optional extra with an additional fee)
Bedrooms & Common areas
Wiping down the window frames
Dusting the light fixtures (only those within reach and excluding expensive chandeliers)
Sanitizing light switches
Cleaning interior doors, door frames & handles
Wiping the baseboards
Vacuuming & mopping the floors
Squeegeeing up to two slider sets (extra windows or sliders can be added for an additional fee)
Dusting window treatments (deep cleaning of window treatments needs to be agreed upon beforehand and charged)
Garage cleanup (optional extra with an additional fee)
Patio/Porch cleanup (optional extra with an additional fee)
*Special requests are accommodated whenever possible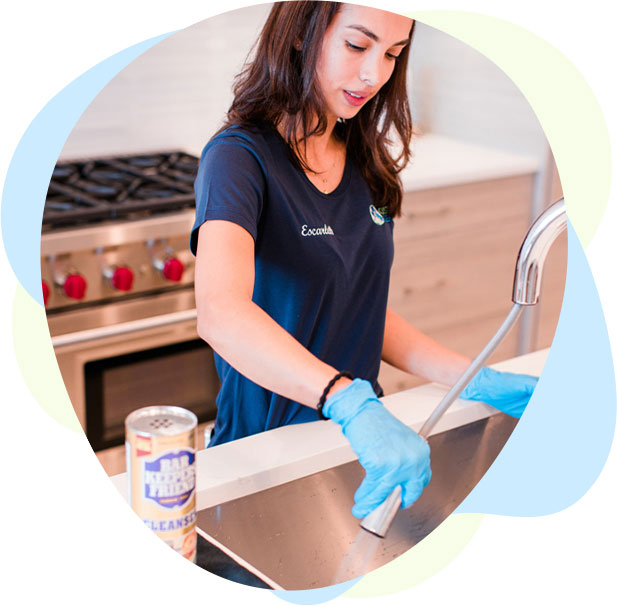 Count on our expert team for move-in or move-out cleaning
When you get in touch with us, we'll work with you to find a time that works best for you to schedule an appointment. Whether you need your old place in Hobe Sound tidied and sanitized to secure the deposit, or you want a fresh and germ-free home to unwind after moving in, our team is here to lend a hand. We provide tailored services and extra add-ons to cater to your specific needs, and our aim is to go above and beyond to leave you satisfied after every appointment.

We have used Custom Cleaners for years. My wife had pulmonary fibrosis and the standard of cleaning made her life better. They are flexible in meeting interruptions in my schedule, agreeable to special requests and very reasonably priced.

This company did a clean on a manufactured home after the furniture was moved out. They did everything I asked for and they did an excellent job. The estimate was accurate and I was pleased with the work.

We have been with Rhonda and Custom Cleaning for three years! They do excellent work in a professional manner; arrive on time, pay attention to details, and go above and beyond what is expected!

I was very impressed with Custom Cleaning's professionalism from the start. Rhonda, Grissel, and our cleaning team are amazing! I can't thank them enough for their prompt response to our request for setting up weekly cleaning service for our home. Our cleaning team is prompt and professional, and the two ladies show great attention to detail. I am extremely pleased with Custom Cleaning's service and so glad I found them!

Best cleaning service on the Treasure Coast! Top-notch job, they go above and beyond to meet your needs. Professional, friendly and trustworthy. They use safe and pet friendly products. Work with you to meet your schedule, and follow-up to ensure you're 100% satisfied. They miss nothing when it comes to getting everything clean.
Frequently Asked Questions
Should you get your house cleaned before moving in?
+
It's a good idea to spruce up your new house in Hobe Sound before settling in it. Even if the previous occupants left the house tidy, there may still be areas that need attention. Move-in cleaning ensures a fresh start and allows you to unpack in a sanitized and healthy environment. It's also a chance to inspect the house for any damage or repairs needed.
How long does it take to clean a house for moving?
+
Factors such as the size of the house, the level of previous maintenance, and the number of people involved in the process all impact the length of time needed for move in/out cleaning. While some relocations may require only a quick once-over, others may need a more thorough scrubbing that can take several hours or even days.
Should I hire a cleaning service when moving?
+
Hiring a move-in/move-out cleaning service in Hobe Sound can be a great option in this case. Relocation is a stressful and time-consuming process, and having the experts handle your old or new house can save you valuable time and energy. They have the necessary equipment, expertise, and experience to get into every nook and cranny, ensuring that the space is completely spotless.
Should I tip a move-out cleaner?
+
The decision to tip a technician or a team is up to you and your individual circumstances. Some people may choose to tip to show their appreciation for a job well done, while others may not. Tipping can also depend on the quality of service received, the level of difficulty of the tasks done, and your budget.
Who do I hire for in-depth move-in or move-out cleaning in Hobe Sound, FL & the area?
+