Meticulous Move-In and Move-Out Cleaning in Jensen Beach, FL
Our cleaners will make your relocation easier.
Schedule Your Free Estimate

Experienced team of cleaners you can place your trust in
We're an industry-leading company that specializes in dependable move-in and move-out cleaning services in the wider Jensen Beach area. Our expert team of highly skilled professionals is thoroughly vetted and trained to make sure that our high standards are met every time. We strive to achieve a cordial and long-standing rapport with all our clients. That's why we have a 100% satisfaction Guarantee in place and we'll send a team over to deal with any complaint you have.
Call Today 772-220-7915
Eco-friendly approach
Your health, comfort, and safety are our priority. With us at the helm, you won't have to worry since we mostly rely on green products that are harmless for the environment and safe for you and your family.
Reliable technicians
We pick and retain only proven personnel with ample experience. All members of our team are insured, bonded, and trained to incorporate and uphold our unique methods and values.
Guaranteed satisfaction
We are devoted to 100% customer satisfaction. If you have any objections, we guarantee to send a team to fix the problem within 24 hours of your call. Our goal is to make you happy and your home spotless.
Effortless booking
Book our reliable cleaners by dialing us at 772-220-7915. Provide us with the required information and we'll give you a transparent quote and work around your schedule and off your requirements.
Reliable move-in/move-out cleaning services
in Jensen Beach
Detailed approach to move-in and move-out cleaning
Bathroom
Cleaning the outside of cabinets
Sanitizing of tub and shower parts
Disinfection of the toilet bowl and tank and surrounding surfaces
Vacuuming and wet mopping of the floor
Wiping of glassware, including mirrors, shower doors, and other glass details
Emptying of trash cans
Thorough wiping and sanitizing of the inside of cabinets (Add-on service with additional fee)
Livingroom, Bedrooms & Common areas
Vacuuming and wet mopping of floors
Wiping of the baseboards
Top-to-bottom cleaning of doors and wooden panels.
Wiping of the door and window frames
Disinfection of door knobs, window handles, and light switches
Dusting of lighting and lamps (excluding expensive and intricate chandeliers)
Squeegeeing of 2 sets of sliders (More sets available as an add-on service)
Garage cleaning (Offered as an add-on service)
Patio and porch maintenance (Offered as an add-on service)
Kitchen
Scrubbing of backsplashes & countertops
Washing and sanitization of the faucet, sink, and drain.
Cleaning the outside of cabinets
Vacuuming and wet mopping of floors
Take care of appliance finishes, oven range, and outside surfaces
Cleaning of the trash can, wiping off the spills, and gathering of surrounding litter
Tackling the inside of refrigerator & oven (Add-on service with additional fee)
Scrubbing inside of cabinets (Add-on service with additional fee)
*We accommodate special requests whenever possible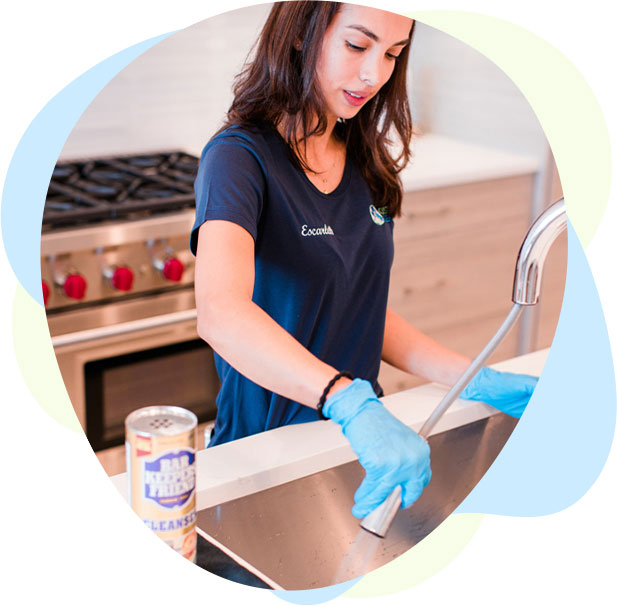 Our practices make all the difference
We rely only on the safest and eco-certified products that won't harm your loved ones or the environment. Our customer-oriented and flexible move-in/move-out cleaning service will adjust to your unique wishes and preferred schedule. We treasure your feedback and suggestions, always looking to improve our service and stay ahead of the game in Jensen Beach.

We have used Custom Cleaners for years. My wife had pulmonary fibrosis and the standard of cleaning made her life better. They are flexible in meeting interruptions in my schedule, agreeable to special requests and very reasonably priced.

This company did a clean on a manufactured home after the furniture was moved out. They did everything I asked for and they did an excellent job. The estimate was accurate and I was pleased with the work.

We have been with Rhonda and Custom Cleaning for three years! They do excellent work in a professional manner; arrive on time, pay attention to details, and go above and beyond what is expected!

I was very impressed with Custom Cleaning's professionalism from the start. Rhonda, Grissel, and our cleaning team are amazing! I can't thank them enough for their prompt response to our request for setting up weekly cleaning service for our home. Our cleaning team is prompt and professional, and the two ladies show great attention to detail. I am extremely pleased with Custom Cleaning's service and so glad I found them!

Best cleaning service on the Treasure Coast! Top-notch job, they go above and beyond to meet your needs. Professional, friendly and trustworthy. They use safe and pet friendly products. Work with you to meet your schedule, and follow-up to ensure you're 100% satisfied. They miss nothing when it comes to getting everything clean.
Frequently Asked Questions
How much cleaning should I do before moving out?
+
Most leases include move-out cleaning that is tied to the security deposit. If you leave your property uncleaned, you risk losing a portion of your deposit money.
Unless it's otherwise specified, you should make sure that there is no trash left, vacuum the property, the bathroom and kitchen are properly scrubbed, and the windows are clean. Hiring specialists will save you time, money, energy, and ensure that you've respected the proper etiquette.
Do you need to clean a house before moving in?
+
When you're relocating to a new house in Jensen Beach it's always advisable to spruce up the place. Even if your new home seems clean, it's best to contact a reliable move in/out cleaning service to ensure that your place is properly sanitized with products that won't harm your loved ones.
Professionals will pay attention to the slightest details and eliminate all contagious germs and microorganisms, enabling you to unpack and make a fresh start in a comfortable and healthy environment.
Should I tip a move out cleaner?
+
While tipping isn't obligatory, it is a great way to show your appreciation. If your place required a lot of work and the service provided was spotless, a tip is the best way to express your satisfaction. Some companies prohibit tipping, so offering coffee, soft drinks, or a snack will be a much-appreciated way to show acknowledgement for a job well done.
How do you deep clean a bathroom before moving in?
+
Doing a deep clean of the bathroom is tiring and requires skill and dedication because bathrooms are moist places with a lot of surfaces that need scrubbing and disinfection. To properly clean a bathroom before moving in you need to at least clean the wash basin, tub, and toilet area. In addition to this, you have to take care of the shower and glass surfaces.
Doing all this is physically demanding and time-consuming so it's best to lean on a proven team to take care of your move-in cleaning in Jensen Beach.
Who offers leading move-in/move-out cleaning services in Jensen Beach and the surrounding area?
+