Expert Residential Cleaning Service in Palm City, FL
Entrust your home maintenance to our professional house cleaners
Schedule Your Free Estimate

Your go-to residential maid services
We've been providing detailed house cleaning services to homeowners in Palm City and the nearby areas for 31 successful years. We at Custom Cleaning of the Treasure Coast offer weekly and bi-weekly services to cater to your unique needs and schedules. Our highly trained team prioritizes using eco-friendly supplies and goes above and beyond to both follow our carefully planned checklist and your requests.
Call Today 772-220-7915
Eco-friendly house cleaning
We make it a point to use green cleaning supplies. Our housekeeping team uses both safe and efficient products and quality equipment to keep your family and pets safe.
Trustworthy team
We've assembled a team of seasoned experts dedicated to providing high-quality cleaning services for your house in Palm City during every appointment you make.
Easy booking
All you need to do when scheduling your appointment is give us a call. From there, our staff will find a slot that works for you and even provide you with a quote based on your needs.
100% satisfaction
We're a client-centered company and our team always goes the extra mile to ensure you're happy with the results. This is why we offer a 100% satisfaction guarantee.
Top-to-bottom residential cleaning services
in Palm City
What to expect from our residential home cleaning
Kitchen
Cleaning the drains and faucets
Removing spider webs
Cleaning countertops and backsplashes
Wiping appliances
Disinfecting light switches and door knobs
Wiping doors
Dusting window sills
Vacuuming and mopping floors
Taking out the trash
Cleaning appliance interior (Add-on service for a fee)
Bathroom
Scrubbing and disinfecting the toilet bowl
Wiping cabinets
Scrubbing the tub and shower
Wiping mirrors and glass doors
Cleaning sinks and countertops
Vacuuming and mopping the floor
Sanitizing door knobs and light switches
Emptying the trash can
Removing cobwebs
Bedrooms & Common areas
Dusting and wiping window sills
Clearing out spider webs
Dusting light fixtures
Wiping doors and door handles
Sanitizing light switches
Cleaning baseboards
Vacuuming and mopping the floors
Changing the bed sheets (Add-on service for a fee)
Tidying up the porch and patio (Add-on service for a fee)
Squeegeeing up to two slider sets (Additional windows or sliders available as an add-on service)
*Special requests are accommodated whenever possible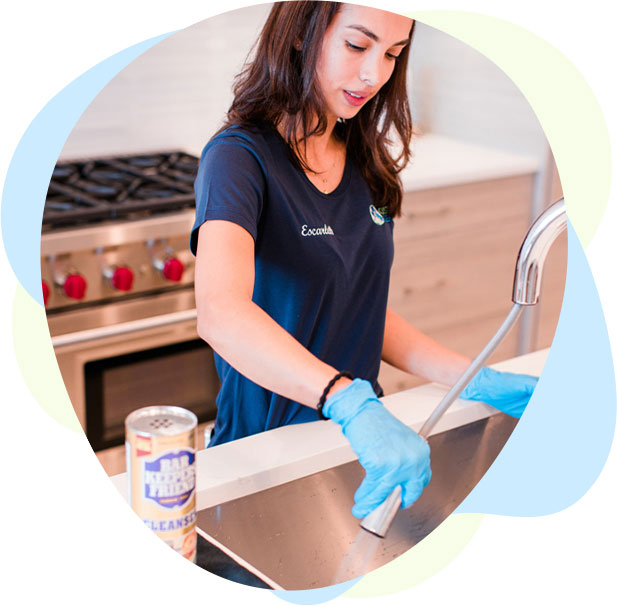 Book some of the best house cleaners in Palm City
From our extensive offer and highly qualified team to the equipment and products we use, we always strive for excellence. Each residential cleaner in our crew is at your disposal for re-cleans in case you're not completely satisfied, as well as add-on services, and special requests. Feel free to give us a call and learn more about what we can do for you.

We have used Custom Cleaners for years. My wife had pulmonary fibrosis and the standard of cleaning made her life better. They are flexible in meeting interruptions in my schedule, agreeable to special requests and very reasonably priced.

This company did a clean on a manufactured home after the furniture was moved out. They did everything I asked for and they did an excellent job. The estimate was accurate and I was pleased with the work.

We have been with Rhonda and Custom Cleaning for three years! They do excellent work in a professional manner; arrive on time, pay attention to details, and go above and beyond what is expected!

I was very impressed with Custom Cleaning's professionalism from the start. Rhonda, Grissel, and our cleaning team are amazing! I can't thank them enough for their prompt response to our request for setting up weekly cleaning service for our home. Our cleaning team is prompt and professional, and the two ladies show great attention to detail. I am extremely pleased with Custom Cleaning's service and so glad I found them!

Best cleaning service on the Treasure Coast! Top-notch job, they go above and beyond to meet your needs. Professional, friendly and trustworthy. They use safe and pet friendly products. Work with you to meet your schedule, and follow-up to ensure you're 100% satisfied. They miss nothing when it comes to getting everything clean.
Frequently Asked Questions
What are the benefits of booking weekly or bi-weekly cleaning services?
+
Consistency is key when it comes to housekeeping as well. You can expect the following benefits once you get weekly or bi-weekly house cleaning:
Enjoying a clean home at all times
Forgetting about germs
Gaining more free time
Feeling healthier at home
How much does residential cleaning cost?
+
The exact price depends on different factors, such as the size of your home in Palm City, the house cleaning you book, and any add-ons you choose.
Feel free to use our easy quoting system. Just fill out a short form and get a precise estimate.
Should you be present during your professional house cleaning?
+
This is up to you.
You can leave your key and give the house cleaner instructions on how to enter your home in Palm City or schedule an appointment when you'll be home.
Will the same house cleaner take care of your home every time?
+
We make it a point to send the same technicians whenever possible.
By getting the same professional, you'll know they're already familiar with your home and preferences.
Where in Palm City, FL, can you find a quality residential cleaning service?
+
Custom Cleaning of the Treasure Coast is at your disposal! Our extensive residential maid services are backed by three decades of experience and numerous happy clients. Let us give your home what it deserves so that you can always enjoy a fresh and tidy space.
You can rely on our expertise when it comes to home maintenance in Palm City, professional residential cleaning in Stuart, detailed weekly or bi-weekly cleaning in Port St. Lucie, and beyond. Don't hesitate to contact us today. We'll take over the housekeeping, and you can enjoy your extra free time strolling along the St. Lucie river.